Kiss My Keto and Nutiva MCT oil are both healthy supplements. But how do they differ? Read this guide before buying.
Medium-chain triglycerides, or MCTs for short, are man-made fats that are used as a supplement on the ketogenic diet. You've probably heard about some of the benefits of MCTs which include increased ketone production for more energy, appetite suppression leading to weight loss, and decreased inflammation.
MCTs can be consumed in different ways depending on your preference. You can take it straight, blend MCT oil into your coffee shakes or smoothie, or drizzle it over your salad. Compared to powders, MCT oils don't have fillers and offer more versatility for cooking. Plus they don't have any taste or smell. Pure MCT oils should not solidify at cooler temperatures.
In this guide, we're going to review two MCT oil brand names: Kiss My Keto and Nutiva MCT oil. Since they're both oils, you might be wondering what makes them different. Read on to find out.
What Is Nutiva Organic MCT Oil?
Nutiva MCT oil is a product of Nutiva, a brand that strives to make a positive difference in the lives of their consumers. It's sourced from 100% organic coconuts, has no harsh aftertaste, and can be blended into hot and cold beverages.
Nutiva strictly adheres to USDA certified organic non-GMO guidelines for the best product. Nutiva adds that this certified organic MCT oil works great for vegan, keto paleo, or plant-based diets. It has a Non-GMO Project Verified seal.
In case you're wondering how Nutiva produced its MCTs, they used a patented cooling process in which the solid fats lauric acid were removed.
Is Nutiva Organic Liquid MCT Keto-Friendly?
Certainly. In fact, MCT oils have become more popular with more people following a low-carbohydrate diet. Nutiva organic MCT oil helps you increase the amount of healthy fats in your diet, especially if you want your fat sources to be plant-based. As a ketogenic supplement, it has no carbohydrates, has 14 grams of saturated fat, and provides 130 calories per serving.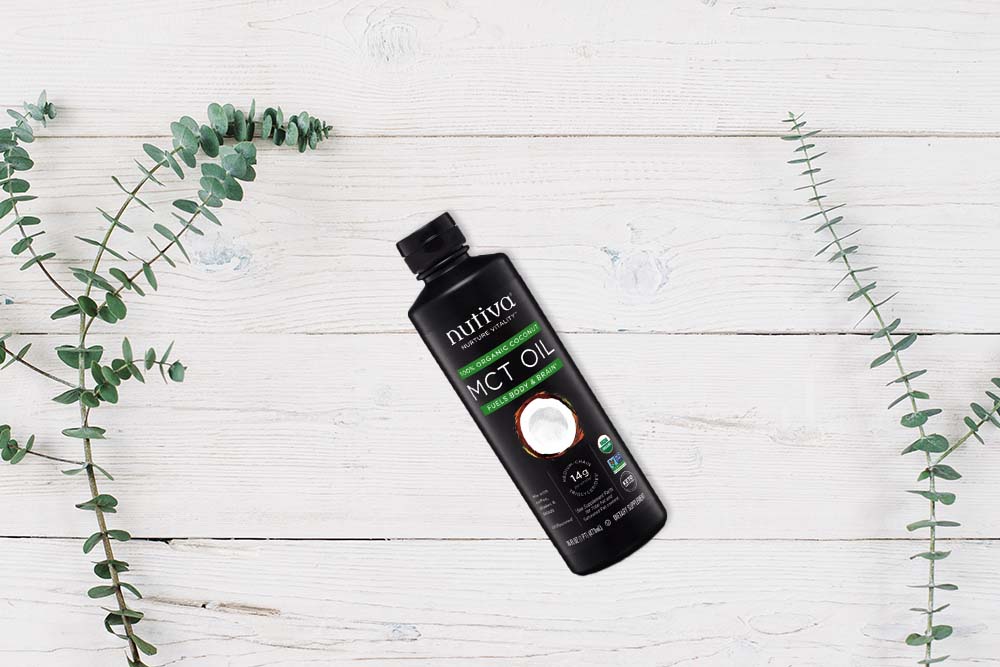 Nutiva MCT Oil vs Kiss My Keto MCT Oil
It seems that both MCT oils are essentially the same. I've personally tried both products, starting with Nutiva's when I did keto as a beginner, then Kiss My Keto's.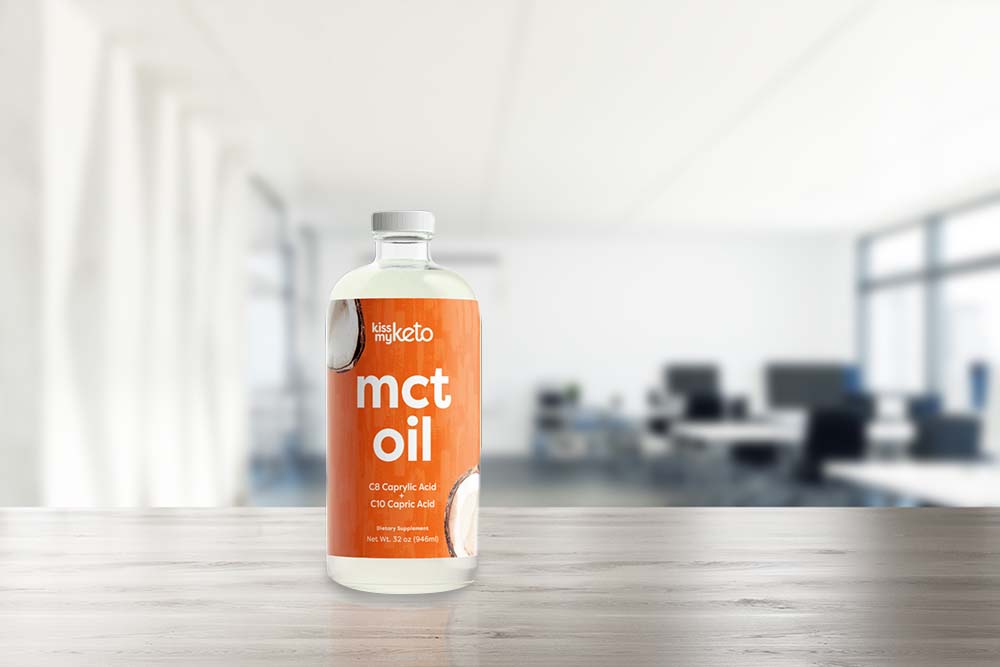 I would say that they're similar in many ways, and there are also differences that you should know about as a consumer before buying. This is especially important if you're taking MCTs for the very first time.
The only ingredient used for both Nutiva and Kiss My Keto MCT oils is medium-chain triglycerides derived from organic coconut oil. So whether you're following vegan paleo or a plant-based keto diet, these supplements are great for you.
Note that MCT oil can also be extracted from palm kernel oil; however, there's a concern about palm kernels not being ethically sourced. So, it's a good thing that both brands extracted their MCTs from coconuts.
Let's check their supplement facts label per one tablespoon serving (15 ml):
Kiss My Keto
Calories: 130
Total Fat: 15g
Nutiva
Calories: 130
Total Fat: 14g
Between Kiss My Keto and Nutiva, Kiss My Keto MCT oil provides more MCTs for each one tablespoon serving.
MCTs come in different types depending on their fatty acid chain length. The best types of MCTs are C8 (caprylic acid) and C10 (capric acid).
Here's an overview: Caprylic acid boosts ketone body production rapidly, which is why it's preferred for entering and maintaining ketosis. Capric acid also increases ketones but not as quickly as caprylic acid. In addition, capric acid has antimicrobial benefits.
Kiss My Keto offers two types of MCT oil products. You can choose from:
C8 + C10 (32 oz bottle)
C8 brain fuel (32 oz bottle)
Nutiva offers only one type of MCT oil product in 3 sizes. Choose from:
C8 + C10 (16 oz bottle)
C8 + C10 (32 oz bottle)
C8 + C10 (128 oz bottle)
Whether you prefer using pure C8 MCT or a combination of C8 and C10, Kiss My Keto has both options. The only possible downside is that Kiss My Keto has only one bottle size.
If you'd rather start with a smaller bottle and are okay with both C8 and C10, you can have Nutiva. But if you want to have the highest quality MCT oil which is pure caprylic acid, then go with Kiss My Keto's C8 MCT.
Another important factor to consider before purchasing MCT oil is the pricing.
Kiss My Keto MCT oils are a better deal. A 32 oz bottle of C8 + 10 costs $28.99 while pure C8 costs $36.99. Plus, there's an option to save more by subscribing for a delivery – and you're free to cancel your subscription anytime.
Nutiva organic MCT oils are more expensive. A 16 oz bottle of C8 + C10 costs $23.99, a 32 oz bottle costs $40.99, and a 1 gallon bottle costs $84.95.
Packaging and Convenience
Some brands package their MCT oils in plastic bottles while others use glass.
Kiss My Keto MCT oils, whether C8 or C8 + C10, come in clear glass bottles. That way, you can be sure that no chemicals get absorbed in the oil, helping it stay pure.
Nutiva organic coconut MCT oil, on the other hand, is packaged in a black plastic bottle with the label NON-BPA. This means that their bottles are beneficial to the environment and your body. I also think that the opaque bottle keeps the oil from getting oxidized by sunlight.
To use Kiss My Keto MCT oil, simply attach the pump to the bottle to conveniently dispense the liquid into your mug or cup. With Nutiva, you'll need to open the cap and pour a little amount into a spoon.
Nutiva and Kiss My Keto MCT oils have a variety of uses depending on your needs and health goals. Consuming MCT oil before a workout can give your body a quick energy boost. We recommend taking it 30-45 minutes prior to a training session.
These MCT oils also help with weight management by reducing your appetite. Of course, you should use them as tools to support your workouts and healthy balanced diet, and not solely as a weight loss hack.
It's so convenient to incorporate Nutiva or Kiss My Keto MCT into your coffee shakes or food. Their neutral flavor won't alter the taste of your meals and beverages.
MCT oil, in general, should be flavorless and odorless. That is why it's great to add to any food or drink because it won't alter the taste.
But let's take a look at some customer feedback:
Kiss My Keto
"Other than that this is a great mild tasting oil that's good on anything you desire."
"Doesn't change coffee taste and on day 3 I can feel the energy boosting power it provides!"
"Plus, there's no funky, bitter taste that occasionally bites me in the throat with other brands; instead, it goes down smooth with zero after taste."
Nutiva
"I can still taste you for a few hours after drinking you, it's kind of a coconut flavor but maybe more nuttish."
"Has just a nice hint of coconut without compromising the taste of your food."
There's one final part to evaluate: Customer feedback. Let's find out what users actually think about the MCT oil products they bought from Kiss My Keto and Nutiva.
Kiss My Keto
The good:
High-quality energy source: "Since it's 100% C8, I do get a better quality of energy when added to my bulletproof coffee."
Effectively boosts ketones: "I ordered the Kiss My Keto CB Brain Fuel because the C8 content was 99.2%. I take the oil straight from the spoon and I love that I don't have to take time to mix it with anything. My ketones roar after taking it."
Dispenses easily: "Very sturdy glass bottle. I love that it has a pump dispenser."
The bad:
Tends to leak: "The mct oil itself was good, and the pump idea is great. But I seemed to have had a faulty pump. That meant that quite a bit of the oil spilled on the counter every time I used it. Quite frustrating."
Nutiva
The good:
Versatile: "Product was just as described, I have used it in tea, oatmeal, salads – even tried it on my skin."
Easy to digest: "If you've ever had problems with your pancreas, this oil is easy to digest… Having had idiopathic acute severe pancreatitis in my 20s, I would have LOVED to have this product."
The bad:
Pouring cap leaks: "The pouring/open cap (right) is awful, drips everywhere, and pours too much."
Have you chosen the best MCT oil for you already? When choosing an MCT oil supplement, you'll want to start by checking the available types of MCTs. Then note the container sizes, price, and customer reviews.
If you're just starting the keto diet and prefer a smaller bottle as a trial, consider Nutiva. But if you want the best bang for your buck, choose Kiss My Keto. Not only does it offer two types of MCT oil products that are high in quality, but the products are also cheaper. Plus, you get more fat per serving with Kiss My Keto.
Try Kiss My Keto's MCT oil today by clicking here. We offer free shipping for orders above $60 within the US.