Looking for keto desserts to buy in stores and online? Check out these top 10 store-bough keto desserts. All below 6g of net carbs in a serving.
Making all your keto desserts from scratch can become impractical, especially since you're already making most of your main meals at home. That's why a keto eater like yourself could benefit from store-bought keto desserts.
With the ketogenic diet still growing in popularity with seemingly no end in sight, we're seeing no shortage of keto desserts to buy in online and offline stores. From low-carb chocolate and keto-friendly cakes to sugar-free puddings and so much more, you have a wide repertoire of choices at your disposal.
The best keto desserts to buy, however, are those below 5g net carbs per serving. Not all keto desserts are this low in carbs. So to make your search for the best ones you can find this year easier, see this list of the top 10 best options money can buy.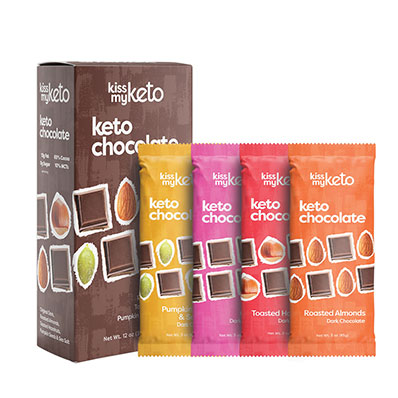 Even extra dark chocolate can still be high in carbs, even if you go for sugar-free brands. That's why for truly worry-free indulgence, you should buy chocolate designed with the keto diet in mind: Keto Dark Chocolate. It's made with keto-friendly ingredients such as unsweetened keto chocolate, inulin, and cocoa butter to keep net carbs at 1g per serving. Choose between four different flavors and stock up for chocolate dessert making.
Nutrition per ⅓ bar: 120 calories | 11g fat | 1g net carbs | 2g protein
---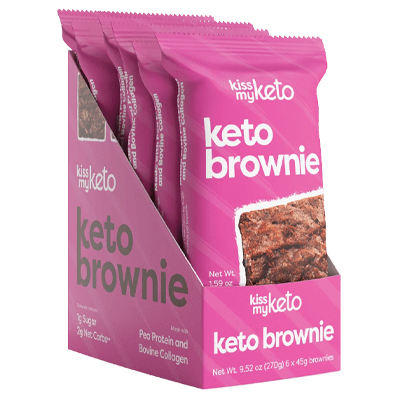 Another chocolatey keto dessert to buy is our Keto Brownie. It's chewy, fudgy, and has only 2g of net carbs. But not only that: this low-carb dessert to buy is loaded with protein and fiber to help keep you full at least until dinner time. And with MCT oil in the ingredients, this just might be one of the keto friendliest desserts out there. We bet you'll love the pairing of keto chocolate decadence and convenience of this fudge brownie!
Nutrition per one brownie: 230 calories | 16g fat | 2g net carbs | 10g protein
---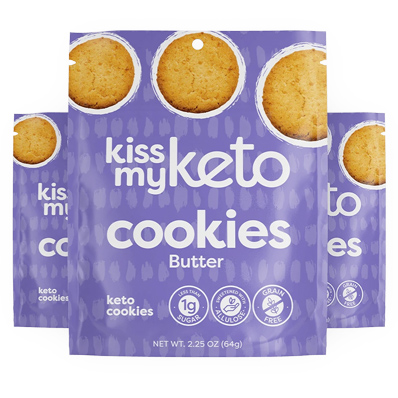 No need to bake keto cookies from scratch every single time. Now you can grab a pack or three to make your keto life easier. Where store-bought keto desserts that you sure can enjoy anytime, anywhere, nothing beats these Keto Cookies. Not only are they convenient, but they're also made with wholesome ingredients like butter, almond flour, and monk fruit extract.
Nutrition per 1/2 package: 170 calories | 13g fat | 3g net carbs | 3g protein
---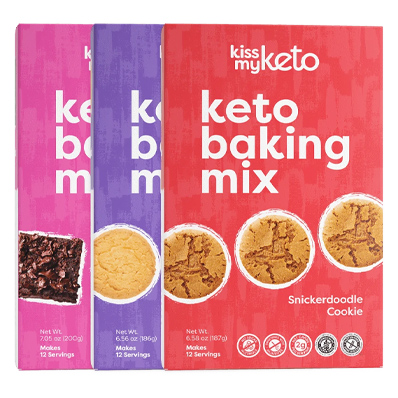 Maybe you're looking for keto-friendly desserts to buy and make at home? Then choose Keto Baking Mix to make quick and convenient homemade desserts. This Keto Baking Mix line includes a Chocolate Brownie, Shortbread Cookie, and Snickerdoodle Cookie mix. You can even use these in a wide range of keto desserts: from pancakes and lemon cakes to coffee cakes and muffins.
Nutrition per 2 ½ Tbsp Chocolate Brownie: 40 calories | 3g fat | 1g net carbs | 5g protein
---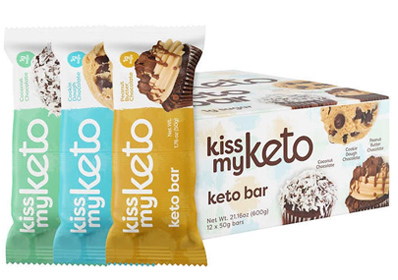 Dessert-flavored bars combine the decadence of dessert with the convenience of a snack bar. These low-carb, keto desserts you can buy are now available in four flavors: Cookie Dough, Coconut, Chocolate Peanut Butter, and Birthday Cake. All have fewer than 3g of net carbs but lots of protein to keep hunger at bay. You can even use these bars to make homemade keto desserts such as mug cake and pudding.
Nutrition per Birthday Cake bar: 240 calories | 19g fat | 3g net carbs | 10g protein
---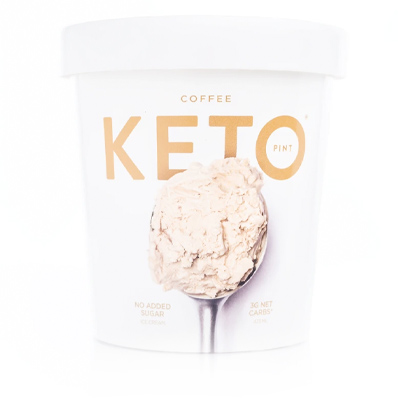 A family-owned keto food company with sustainable living initiatives, Keto Pint is best known for its tasty keto ice cream. This particular one is made with Colombian coffee and has no added sugar to help keep net carbs to just 3g per serving! It contains only simple ingredients such as cream, chicory fiber, and natural sweeteners. And if you're looking for low-carb desserts to buy at the grocery store, you may find this ice cream at Costco, Ralph's Grocery, and even Walmart.
Nutrition per 2/3 cup: 190 calories | 17g fat | 3g net carbs | 4g protein
---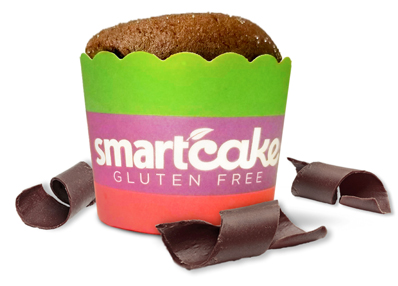 This grab-n-go cupcake by Smart Baking Company is practically carb-free thanks to smart ingredients like a fiber blend, erythritol, whey protein, and olive oil. This makes it not only keto-friendly but gluten-free as well. You'll get a total of eight Smartcakes in one 4-pack box. Enjoy this as is or top it with whipped cream or your favorite keto ice cream. It holds well in the refrigerator and freezer, making it one of the best carb-free desserts you can buy online and in health food stores.
Nutrition per cake: 38 calories | 2.5g fat | 0g net carbs | 4g protein
---
8. Chocolate Fudge Energy Pods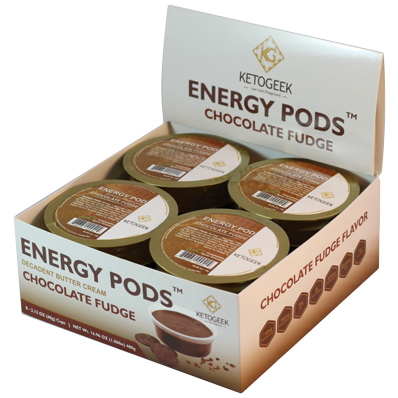 A fan of creamy and silky desserts? Ketogeek fudge energy pods are not only that but they're also loaded with quality chocolate flavor and sweetened with erythritol. And other than being low in carbs, these fudge pods are also gluten-free and organic. This is also a shelf-stable dessert that requires no refrigeration. Good news if you're always on the go. Ketogeek sells Energy Pods in Pecan Coconut and Spiced Walnut flavors as well.
Nutrition per 2oz serving: 290 calories | 25g fat | 3g net carbs | 7g protein
---
9. Sugar-Free Soft Caramels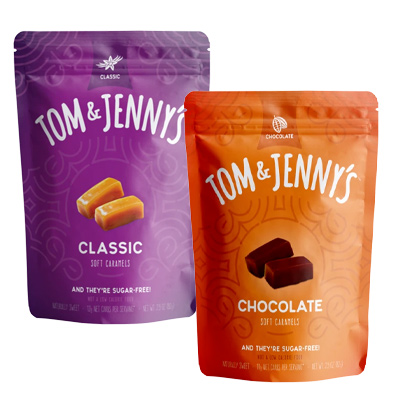 If you love keto candy, these sugar-free caramels by Tom & Jenny's were created by a dentist to satisfy your sweet tooth while keeping it cavity-free. Needless to say, these soft caramels are also low in carbs and keto-friendly. They're available in four different flavors, all equally tasty and addictive. Keep note that these are some of the best keto desserts to buy if you're looking for something bite-sized and that you can share.
Nutrition per 5 pieces: 100 calories | 4.5g fat | 0g net carbs | 1g protein
---
10. Sugar-Free Chocolate Pudding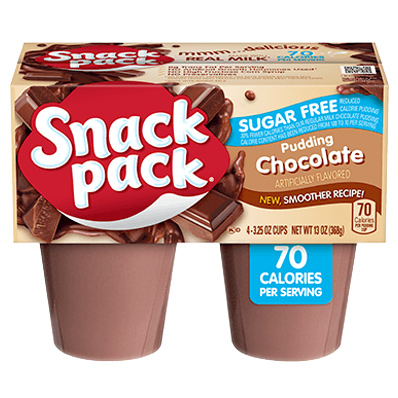 One of the best low-carb desserts to buy at your local store and online is this chocolate pudding by Snack Pack. It has 35% fewer calories than the original and only 4g net carbs per cup. If you'd like to enjoy more variety, you can also buy this one in vanilla flavor. While this product isn't labeled as being keto-friendly, its carb count shows you can safely enjoy this on the keto diet.
Nutrition per 3.25oz cup: 70 calories | 3.5g fat | 4g net carbs | 1g protein
---
11. Peanut Butter Protein Wafer Crisps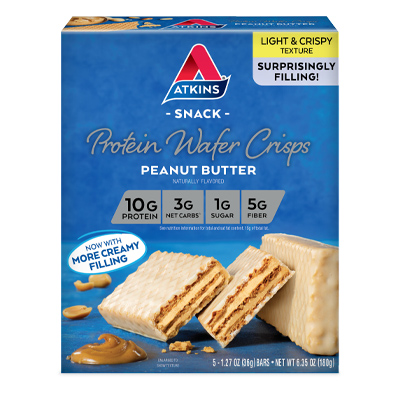 Atkins offers a range of low-carb dessert options that can work with the keto diet as well. These Protein Wafers are no exception at only 4g of net carbs per serving. They contain milk and plant proteins, along with zero-calorie sweeteners, to keep you full and in ketosis. Despite their light and crispy texture, they're quite filling. Grab these at stores like Walmart or Target, or order online to save even more time.
Nutrition per bar: 190 calories | 14g fat | 4g net carbs | 10g protein
Staying keto and satisfying your sweet tooth doesn't have to be mutually exclusive. With so many stores including low-carb, sugar-free, and keto options, it's easy to do both even while on the go.
This list includes some of the lowest carb keto desserts to buy today. From fudgy and crunchy to creamy and silky, there's something out there for everyone's taste. Didn't find anything on this list to suit your tastes? For even more sweet keto options, check out these 15 keto sweet snacks bound to delight your taste buds.