JUMP TO RECIPE
Want something new and fruity for breakfast? Our fruit and granola parfait is worth a try! Start the day right with this keto-friendly recipe.
Bacon and eggs are overrated, don't you agree? These are common breakfast foods on keto. Over time, it can get repetitive and boring. That is why today, I'm so excited to share a unique breakfast treat with you – and I hope you'll love it as much as I did.
Don't worry, it's quick to make. All you need is a total prep time of 10 minutes and a few ingredients. There's no cooking involved at all.
For the granola, I've used Kiss My Keto's Strawberry and Vanilla granola pack. They just released it and I figured it would be wonderful to make a breakfast recipe out of it. That curiosity led to this delicious treat.
How to Make Keto Fruit & Granola Parfait
Assemble the following ingredients:
Greek yogurt – Plain greek yogurt is keto friendly! Here's a tip: Make sure to choose the yogurt with the highest amount of fat and the least amount of sugar.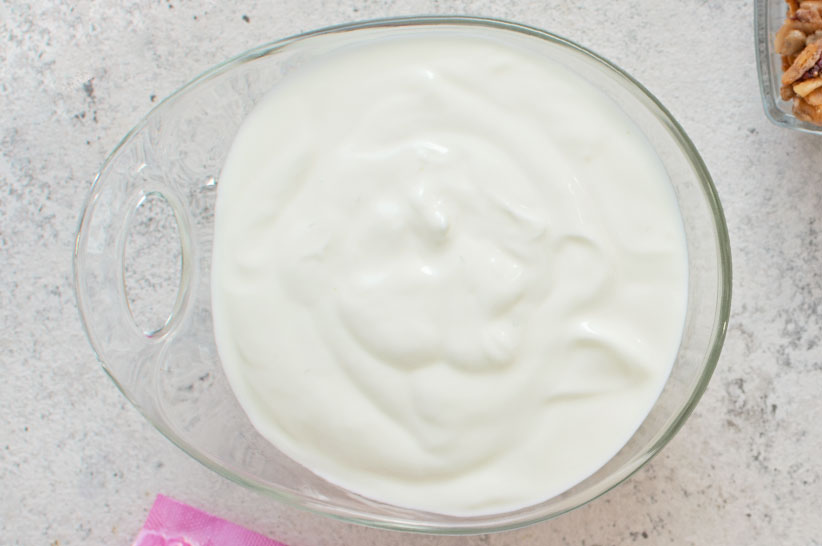 Vanilla extract – You'll only need a small amount of this just to add some sweetness and flavor to your parfait.
Sweetener (optional) – Stevia is a good choice. Erythritol too, if you're not prone to digestive problems. Some people experience bloating and stomach cramps on erythritol.
Mixed berries – I've used a pack of frozen blended berries. You'll find these at the grocery store. You can store the remaining berries for another round of parfait or a different keto recipe.
Kiss My Keto Strawberry and Vanilla granola – Each serving of their granola has only 3 grams of net carbs. It's sweetened with allulose which has no impact on your blood sugar levels.
Once you have all the ingredients, simply mix the greek yogurt and vanilla in a bowl. Add your keto sweetener of choice (optional).
Next, get a glass and arrange the ingredients in layers with plain granola (not mixed with yogurt) at the base of the glass. Finally, top the parfait with your berries!
Kitchen Equipments Needed
Bowl (for mixing greek yogurt and vanilla)
Whisk
Glass (for the parfait)
Tips for Making Keto Fruit & Granola Parfait
Make sure to serve the parfait right after preparing it to prevent the granola from becoming soft. You or your guests will love some crunch!
Avoid using honey or traditional maple syrup to sweeten parfait since these options can quickly raise your blood sugar.
Sour cream mixed with cream cheese can be used instead of greek yogurt if you prefer it.
Frequently Asked Questions
Can this keto parfait be made ahead of time?
Yes, they can! Except that you shouldn't add the granola in to avoid sogginess. Here's what you can do instead: Just add the yogurt in the glass and cover with foil. When you're about to eat parfait, take out the granola and place them as toppings together with the berries.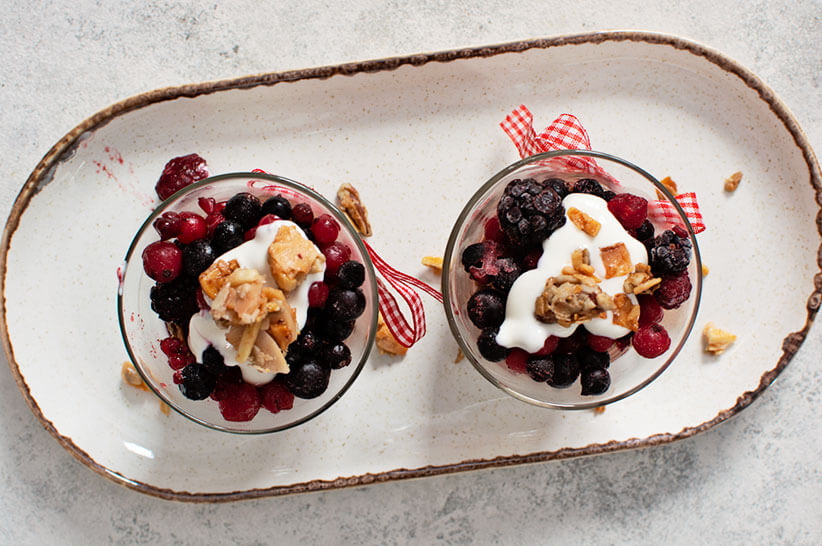 I have fresh berries. How do I store them?
Store them in a Ziploc bag and refrigerate them. They will last in the fridge for up to 3 days only. Also, they should be spaced apart from each other to prevent them from getting crushed or deformed.
Can I use dark chocolate as a parfait topping?
Of course, you can! Just be sure to choose keto-friendly chocolate. Lily's dark chocolate is a good choice, or you can also use Kiss My Keto's dark chocolate with medium-chain triglycerides for an energy boost.
Keto Fruit & Granola Parfait
Preparation Time: 10 minutes
Serves: 2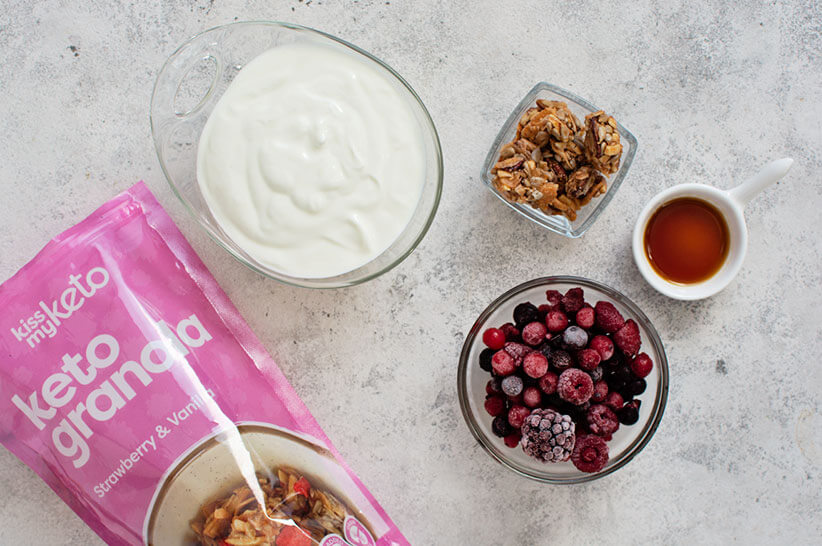 1 cup Greek yogurt
1 tsp vanilla extract
Sweetener, as needed
½ cup mixed berries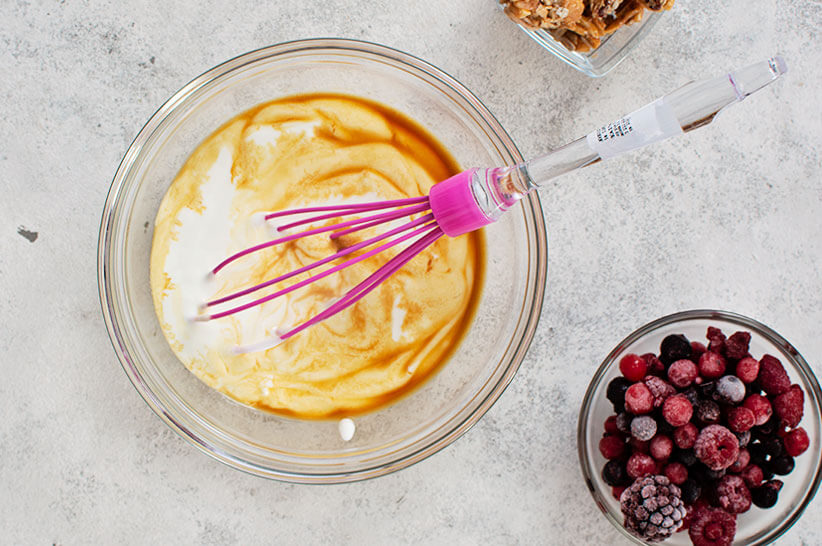 In a bowl, combine the Greek yogurt and vanilla. Add your sweetener of choice as desired.
Add granola to the base of the glass.
Place some of the yogurt.
Finally, top with granola and berries. Make sure to alternate layers of the ingredients in the glass.
Serve immediately.
Tips & Tricks
Want to upgrade your parfait? One way to do that is to add keto-friendly peanut butter! In this case, peanut butter should be mixed together with the yogurt. Keep in mind that upgrading your parfait will also increase its carb count.
Adjust the amount of granola and other toppings depending on your daily carb limit. As a rule, more ingredients mean more carbs.