JUMP TO RECIPE
Seriously, this keto shrimp scampi dish will impress your family and guests. It's also convenient – all you need is a total prep and cooking time of 20 minutes.
As a pasta lover, you must be wondering how on earth can this gastronomic delicacy be okay for the keto diet. The secret is in the pasta. Instead of traditional pasta, which is typically high in carbs, we're replacing it with Kiss My Keto's angel hair noodles.
While angel hair has a different texture, you'll be surprised that it has minimal carb content which is perfect for your lifestyle. It's also versatile as it absorbs the flavors from your recipe ingredients. Yum! Here, I'm going to show you how to make a super delicious bowl of shrimp scampi with pasta – at only 4.1 net carbs per serving.
What Makes Shrimp Scampi Keto-Friendly?
A favorite worldwide, this version of shrimp scampi makes use of most traditional ingredients such as butter, extra virgin olive oil, red pepper flakes, shrimps, and garlic. Check out the ingredients list below.
One exception that makes all the difference is Kiss My Keto's angel hair noodle pack. Normally, we would use linguine pasta which has 41 grams of carbs per serving – yikes. So, we're avoiding that.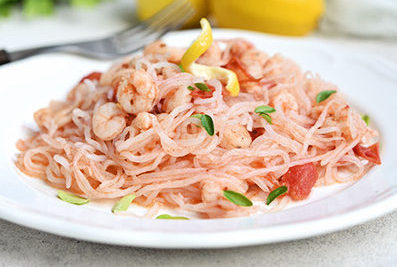 Colander (for the angel hair noodles)
Spatula
Skillet
Knife
Frequently Asked Questions
Can I refrigerate shrimp scampi?
Yes. Cooked leftover shrimp scampi can be kept in the fridge for up to 2 days. To store it properly, place it in an airtight container.
Can I use white wine for this recipe?
As you may notice, I didn't use white wine for this keto shrimp scampi. But most shrimp scampi recipes do, and white wine such as Pinot Grigio is okay for the keto diet. So, you can use Pinot Grigio. It will also bring out the flavor in your shrimp scampi dish.
What are replacements for white wine?
In case you want to add white wine to shrimp scampi but don't have a bottle at home, feel free to use apple cider vinegar as a substitute. Apple cider vinegar is also keto-friendly.
Keto Shrimp Scampi
Preparation Time: 10 minutes
Cook Time: 10 minutes
Serves: 2
1 package Kiss My Keto Angel Hair Pasta
1 tbsp olive oil
2 cloves garlic, minced
¼ tsp red pepper flakes
5 lb. shrimps, peeled and deveined
¼ cup vegetable stock
½ cup chopped tomatoes
Salt and pepper, to taste
Basil, for garnish, as desired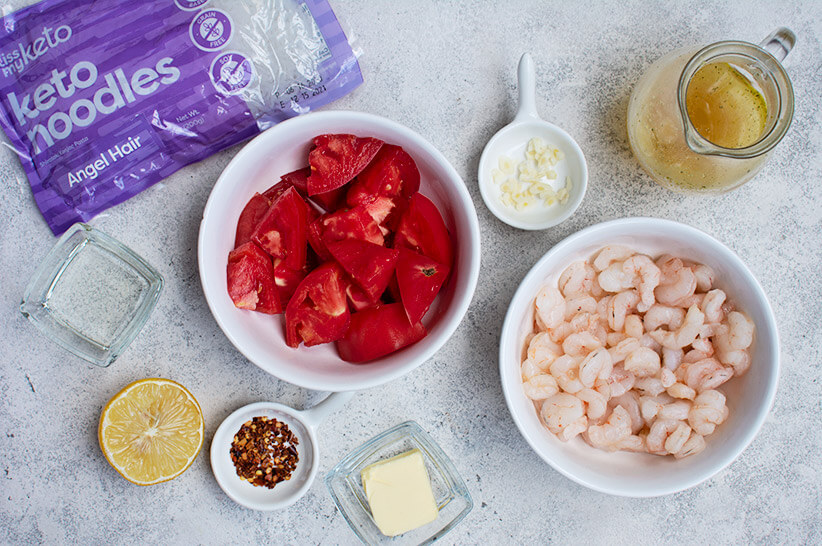 Prepare angel hair pasta according to package directions.
Heat oil in a skillet.
Add garlic, shrimps and red pepper flakes.
Cook for 2 minutes.
Add stock and tomatoes. Cook until the tomatoes are soft.
Add butter and angel hair pasta.
Cook until the butter is melted. Season to taste with salt and pepper.
Remove from the heat.
Serve warm, garnished with basil, if desired.