Many foods are off-limits on keto, but chocolate isn't one of them… at least not all of it.
Dark chocolate is lower in carbs than milk chocolate, for example, which is why you'll often see it being recommended to keto-ers. That's because dark chocolate often has a higher ratio of cocoa solids to added sugar compared to milk chocolate, but it still has sugar in it! And besides, not all dark chocolate will necessarily be low in sugar. 
So, what you really want to look for is keto chocolate designed specifically for YOU or brands that just don't add sugar. And luckily, there's no shortage of keto chocolate to buy online and elsewhere. 
Here are some examples of what we're talking about.
1. Kiss My Keto Dark Chocolate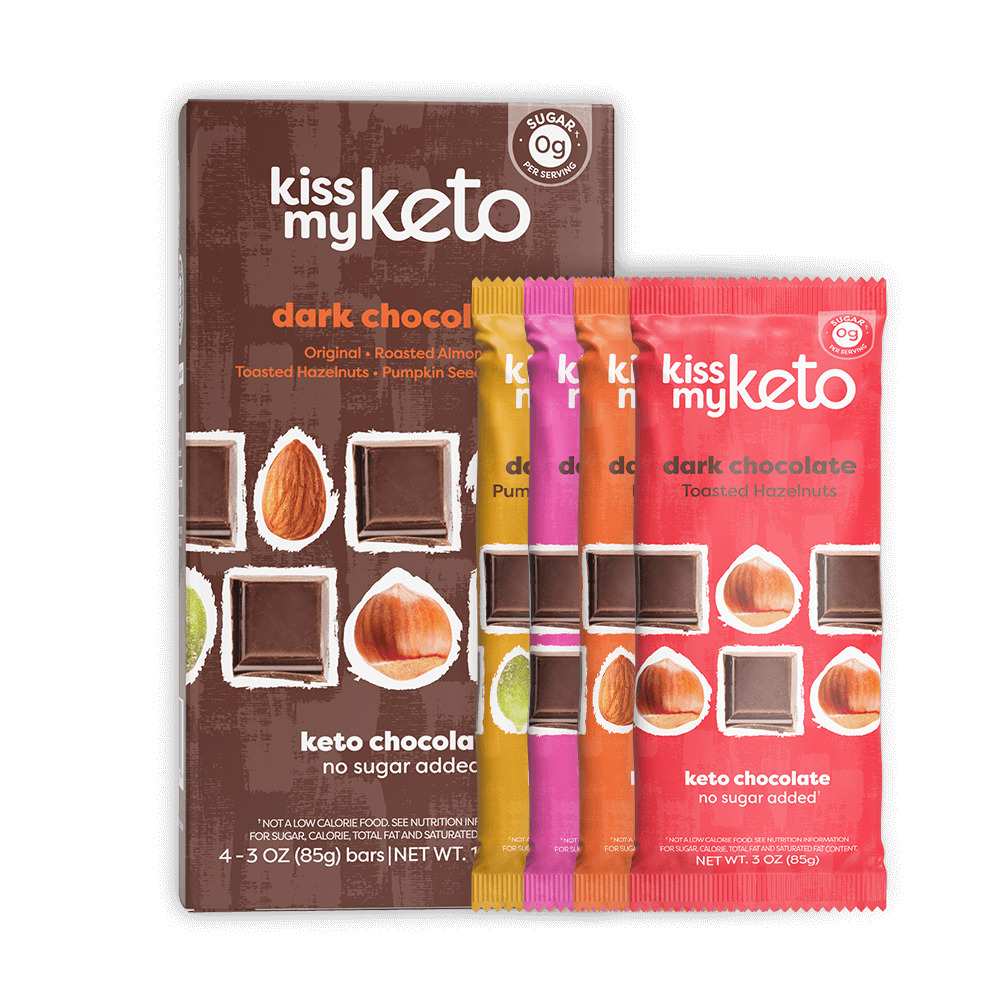 At only 1g of net carbs in a 1oz serving, this is definitely one of the lowest carb chocolate brands out there! But there's more to this keto chocolate than its carb count: it also comes in four different flavors, is made with simple ingredients, and contains natural sweeteners like stevia and erythritol. 
Kiss My Keto's Dark Chocolate is great on its own; however, you can also use it in recipes that call for chocolate. The Original variety is probably best for this purpose, but the flavored ones can work just as well depending on the recipe. 
Nutrition (per ⅓ bar): 120 calories | 11g fat | 1g net carbs | 2g protein 
Price: $4.99 (per chocolate)
---
2. Choc Zero Keto Chocolate Bark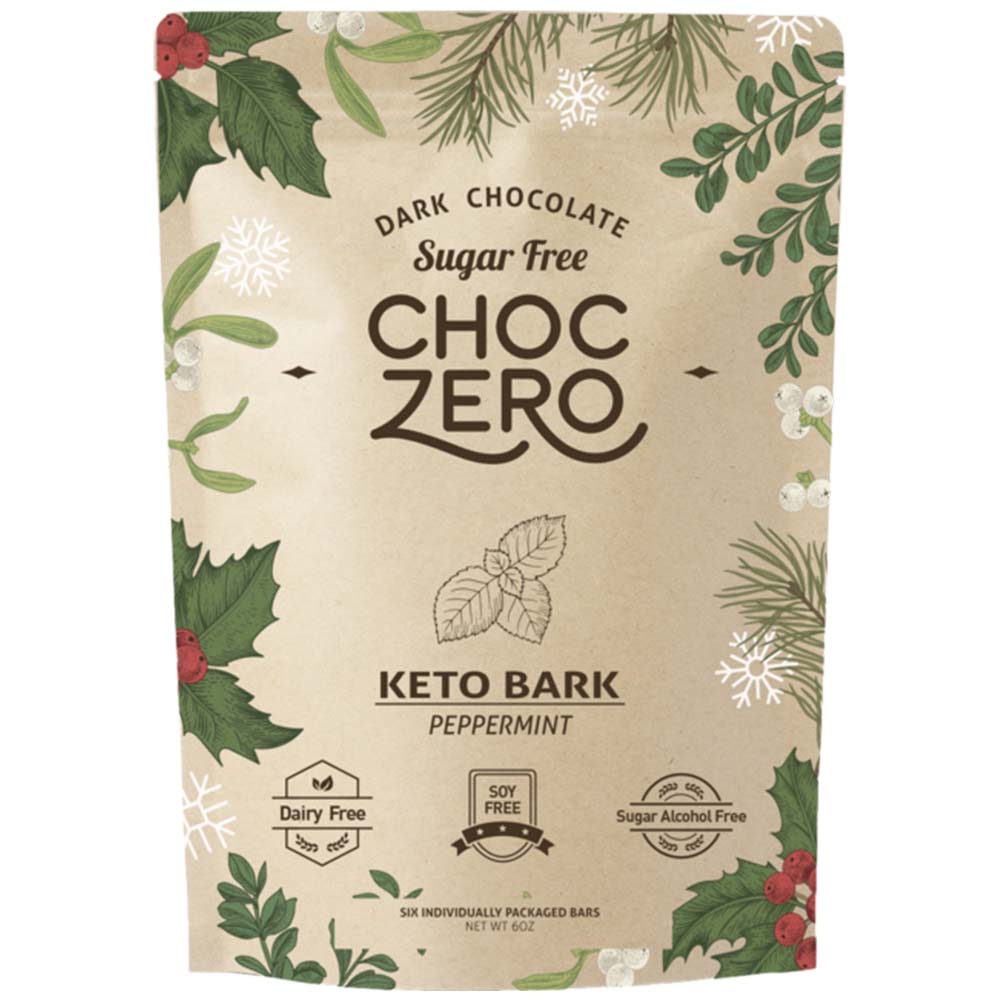 ChocZero is a keto brand known for its use of high-quality ingredients like Madagascar vanilla beans and premium chocolate liquor. On top of that, you won't find artificial sweeteners or sugar alcohols in their products — just monk fruit. The same holds true for their Keto Chocolate Bark. 
Keto Chocolate Bark comes in over a dozen different flavors, and you get to choose between milk and dark chocolate varieties. And you read that right — this product is also made with milk chocolate! The secret to making great keto milk chocolate is using lots of cocoa butter and cream solids, which is what Choc Zero did here. 
One bag contains six individually wrapped barks, all made from ethically sourced cocoa. And if you're not satisfied with your order, Choc Zero is happy to give you a refund. 
Nutrition (per 1 piece): 140 calories |11g fat | 3g net carbs | 2g protein 
Price: $6.99
---
3. Lily's Creamy Milk - Milk Chocolate Bar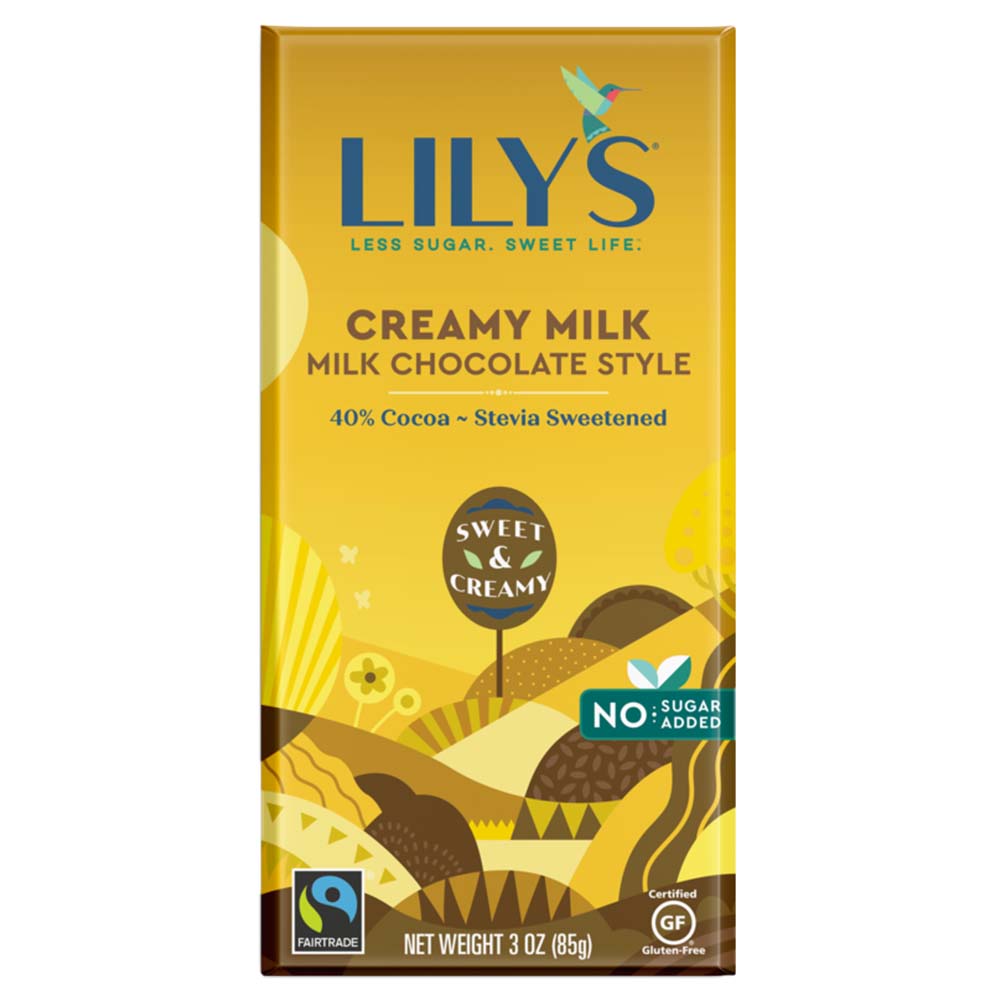 Sure, dark chocolate is great. But we all crave the indulgence of milk chocolate now and then. Lily's has made this possible for keto followers with their own variety of creamy milk chocolate. This one is made with lots of cocoa butter as well as stevia and erythritol. The product is also gluten-free, fair-trade, and non-GMO. However, it isn't soy or dairy-free, in case you need to know. 
Overall, this is one of the best keto chocolate brands to buy if you're looking for melt-in-your-mouth chocolate — the kind that makes it hard to stop at one square. What's also surprising about this product is that it's 40% cocoa despite being the milky variety. 
Nutrition (per 30g): 130 calories |10g fat | 2g net carbs | 2g protein 
Price (one bar): $4.99
---
4. Hershey's Special Dark Zero Sugar Chocolate Candy Bars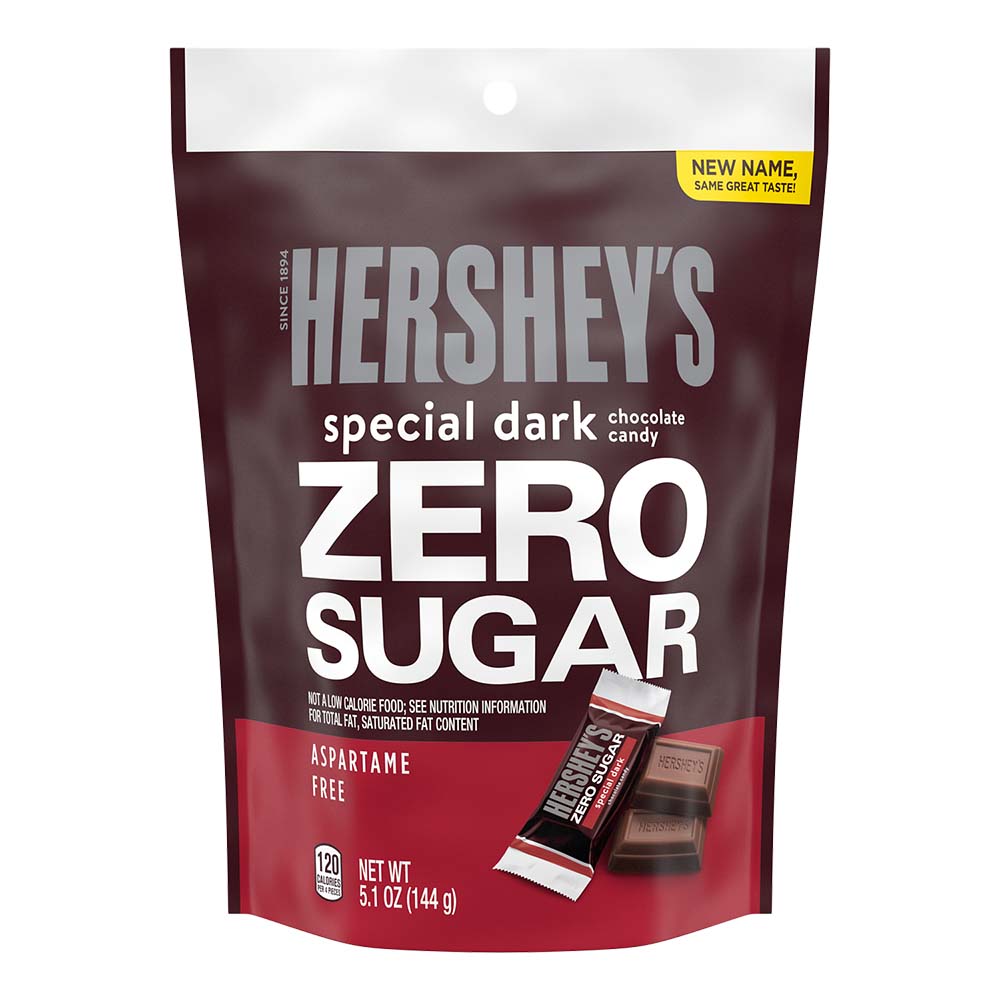 Hershey's sells a couple of sugar-free and low-carb chocolate products. And in case you were wondering where to buy keto chocolate: this particular one can be found in the company's stores, Target, and, of course, on Amazon. It's sweetened mainly with maltitol, a sugar alcohol that can cause digestive upset if you eat more than the recommended limit.
On the bright side, this chocolate has only 2g of net carbs in four pieces. The individually wrapped chocolates make it easy to keep your portions in check. Plus, you can easily bring them with you anywhere, anytime.
Nutrition (per 4 pieces): 120 calories |10g fat | 2g net carbs | 2g protein 
Price: $4.99
---
5. Lakanto Sugar-Free Chocolate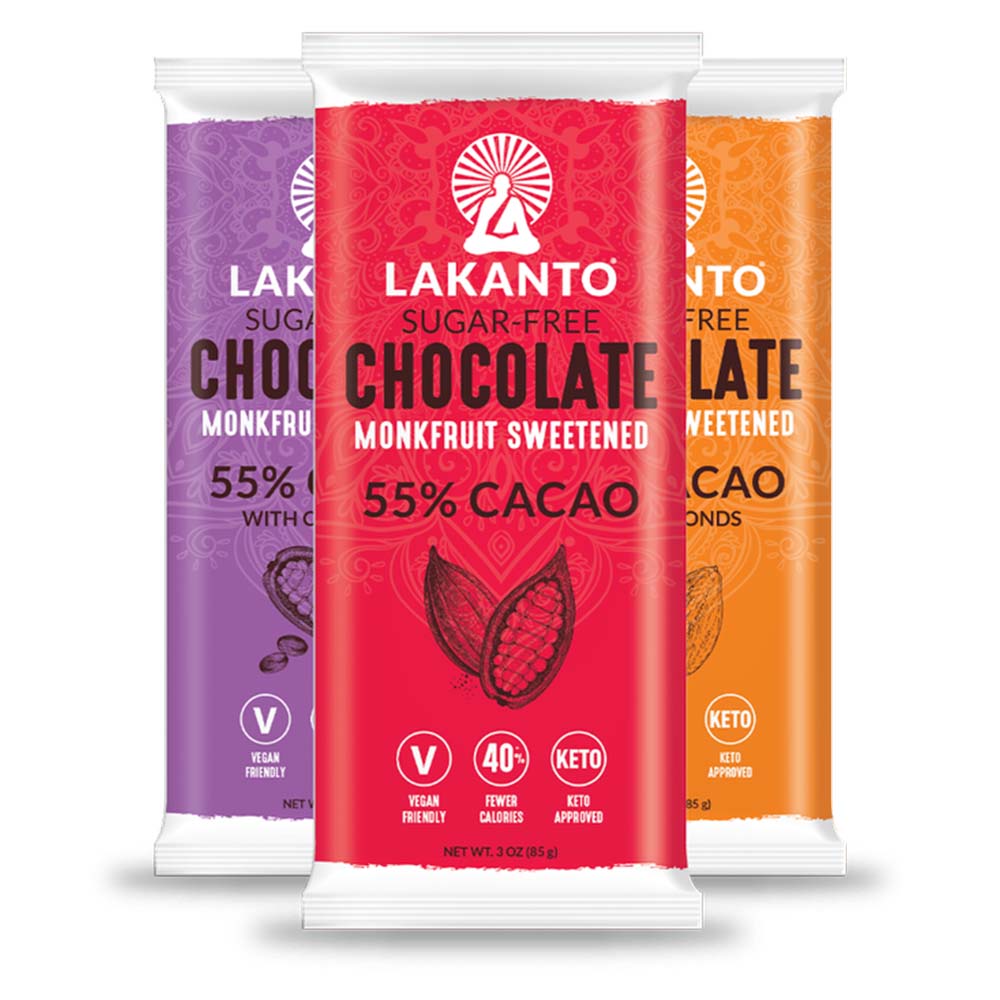 Lakanto is known for monk fruit sweeteners, which they've added to this sugar-free chocolate. Bear in mind that most monk fruit sweeteners, including Lacanto's, contain erythritol. That aside, this chocolate bar is perfect. It's made with quality ingredients, such as heirloom Arriba Nacional cacao beans. These are known for their fruity undertones, so expect this chocolate to taste different than what you're used to. 
Besides being keto-friendly, this dark chocolate bar is also vegan. It is 55% cacao and is sold as plain dark, with almonds, and with cacao nibs. Overall, one of the best keto chocolate to buy when you're looking for quality ingredients and great taste. 
Nutrition (per ½ bar): 180 calories | 17g fat | 3g net carbs | 2g protein 
Price (one bar): $4.99
---
6. Alter Eco Total Blackout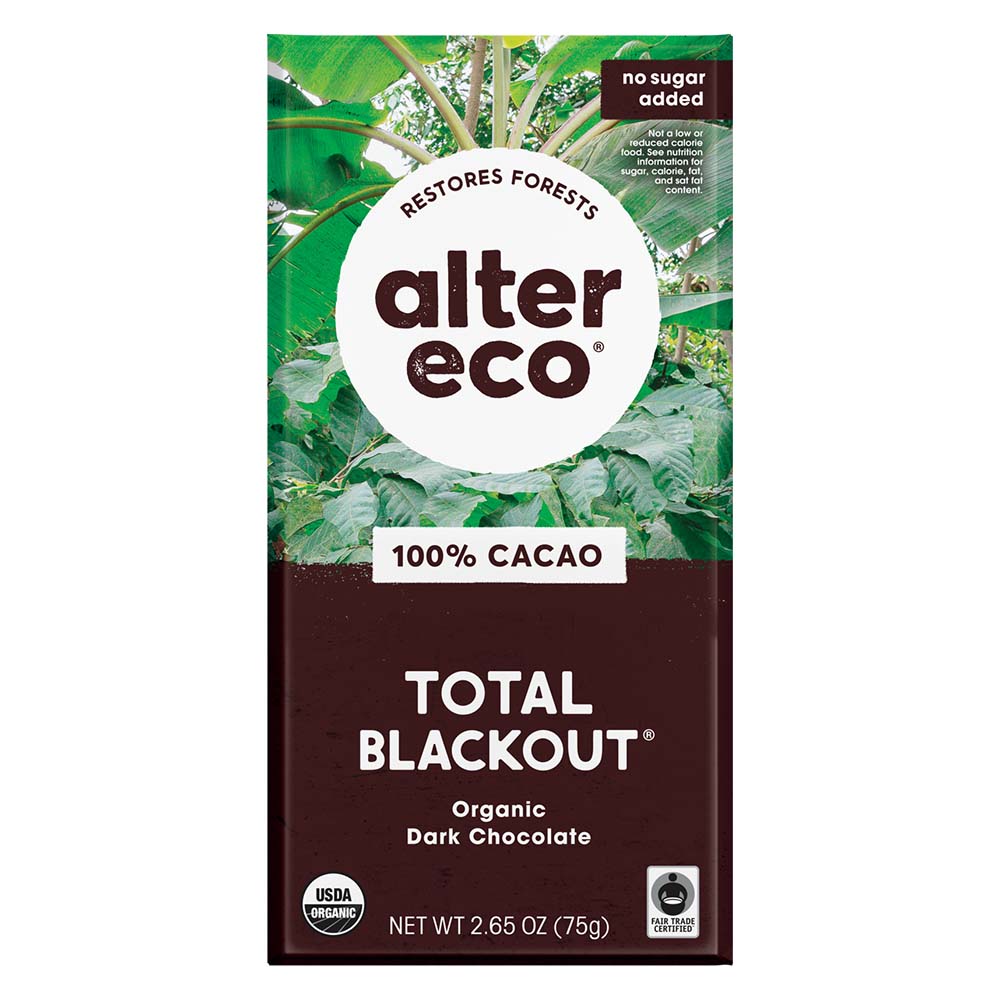 An environmentally focused brand, Alter Eco sources all of its products from farmers practicing sustainable agriculture. So definitely opt for this one if you want to buy keto-friendly chocolate that's also eco-friendly. 
As explained on their website, this 100% cacao bar is as pure as chocolate gets. It has only two ingredients: organic cocoa beans and cocoa butter. This makes it not only keto, but also vegan, paleo, and gluten-free. And it doesn't disappoint on the taste front since it's made with expert Swiss coaching, ensuring it's smooth and decadent as chocolate should be.
Nutrition (per 4 sections): 200 calories | 18g fat | 3g net carbs | 3g protein 
Price: $3.99
---
7. The Good Chocolate - The Detox Bar Coconut & Turmeric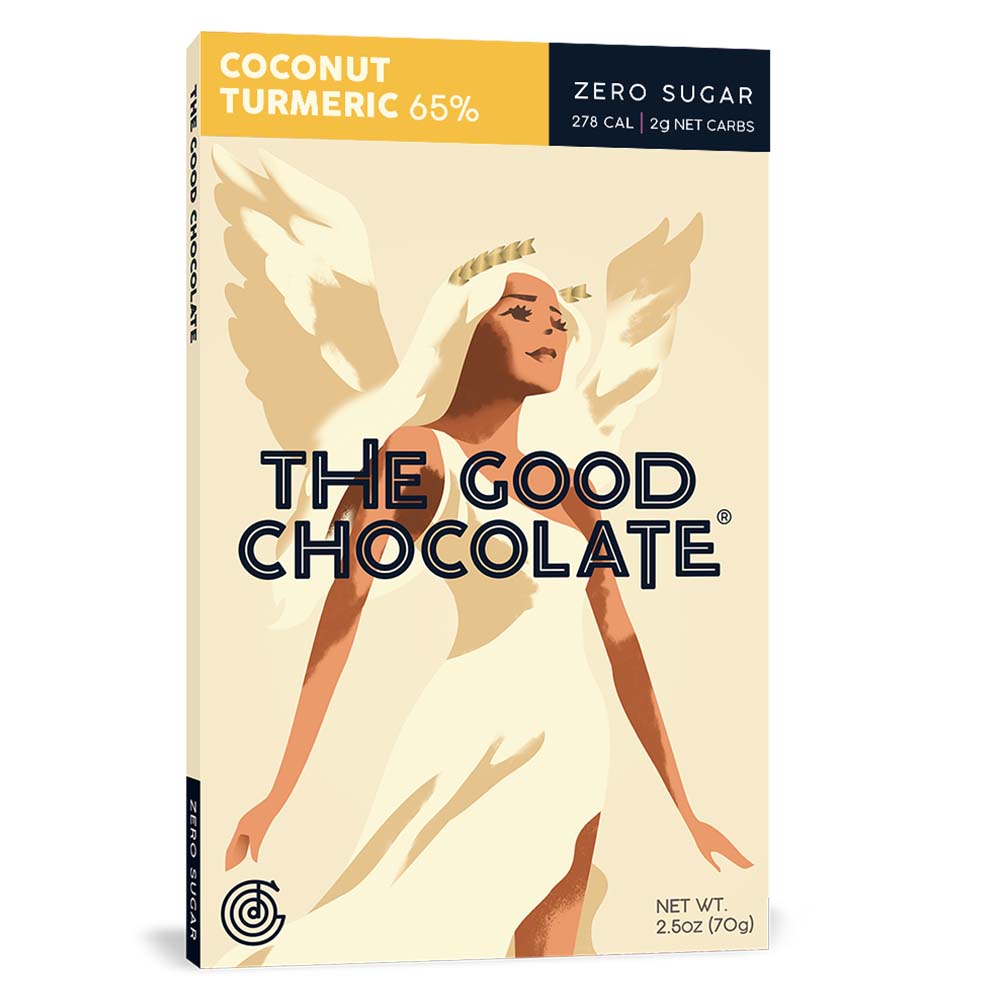 Or maybe you love chocolate with fun flavors and added benefits? This one by The Good Chocolate is made with superfoods like 65% dark chocolate, toasted coconut, and turmeric. These ingredients give it a lovely burst of flavor along with antioxidants. It's sweetened with erythritol and stevia but also mesquite powder, which is low GI food. Other than being keto, this chocolate is also vegan, paleo, and FODMAP-friendly.
Keep in mind this product is also limited edition, so make your purchase today if you're really keen on trying it. Other similar products by this brand include Mint Bar, Ginger Bar, and Salted Alm
Nutrition (per ½ bar): 124 calories | 12g fat | 3g net carbs | 3g protein 
Price: $8
What's Your Favorite Keto Chocolate Brand?
Already found keto chocolate of your dreams? Share your favorite brands in the comments section. 
But if you're still looking for keto chocolate to buy and to curb those cravings then definitely consider some of our picks. These are all sugar-free and most have less than 4g of net carbs in a serving.  This means you can safely enjoy them on their own and add them to chocolate desserts without worrying about added sugars.
One caveat: Make sure to factor in sugar alcohols in keto chocolate. Some sugar alcohols can cause stomach problems when consumed in excess. This is especially true for maltitol and erythritol to a lesser degree.