One of the most difficult things to replace on a keto diet is flour. But that doesn't mean it's impossible. Below are examples of keto flour substitutes to use in your breads, pancakes, muffins, and more.
As you know, grain flours are not keto-friendly. They are high in carbohydrates and raise blood glucose levels fairly quickly.
You can replace regular grain flours with nut flours but also nut and seed meals in most recipes that call for flour, like bread, pancakes, muffins, or pizza dough. You will, however, need to adjust the ingredients since keto flour substitutes don't behave like flour.
Firstly, keto flours don't contain gluten, a protein found in grains that helps flour rise and hold its shape when leavened with yeast. This is why you'll use leavening ingredients other than yeast in most keto recipes.
Secondly, keto flours add a different taste and texture to recipes, which may also require adjusting to get it right.
Keto flour substitutes are also typically higher in fat or fiber than regular flours, which can impact the way these flours behave when combined with liquids.
So, if you're interested to learn which flour substitutes are best for your keto diet, our article includes a list of the 7 best to consider.
Almond flour is made from finely ground blanched (no skin) almonds. It has little carbs, a mild and slightly sweet taste, and moist texture. It's also very nutritious, providing a hefty dose of protein, fiber, monounsaturated fats, vitamin E, and other nutrients 1.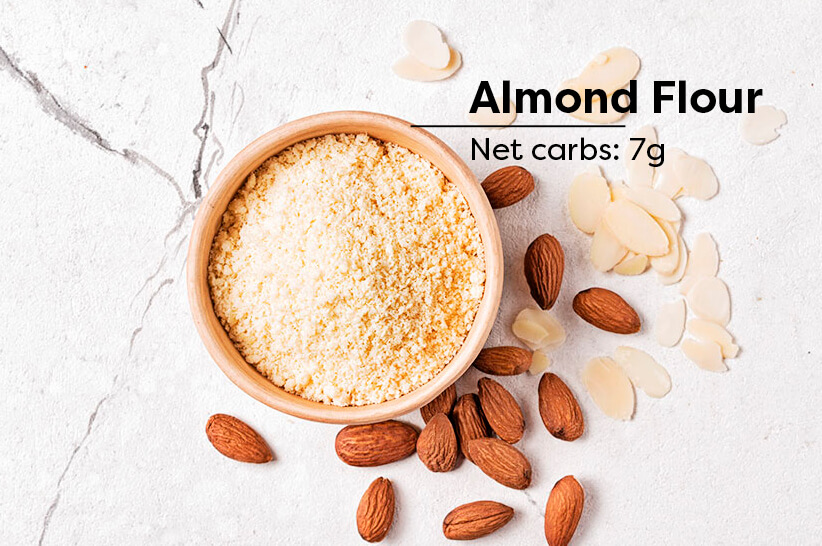 Almond flour nutrition (100 g)
Calories: 570
Fat: 50g
Net carbs: 7g
Protein: 21g
Fiber: 14g
Almond flour is a heavier type of flour, so it's best for recipes where you want dense, moist, and tender results – like these keto brownies. Almond flour is also suitable for making keto pasta, keto pancakes, and as a breadcrumbs substitute.
To create a lighter texture in baked goods, however, you will need to combine almond flour with fibrous flours.
Besides being a fantastic low-carb substitute in keto recipes, almond flour is also paleo and gluten-free.
2. Almond Meal (Ground Almonds)
Almond meal is not to be confused with almond flour. It's made from whole ground almonds that are sometimes blanched but most of the time not. The consistency is coarser than almond flour and it has a richer, nuttier taste.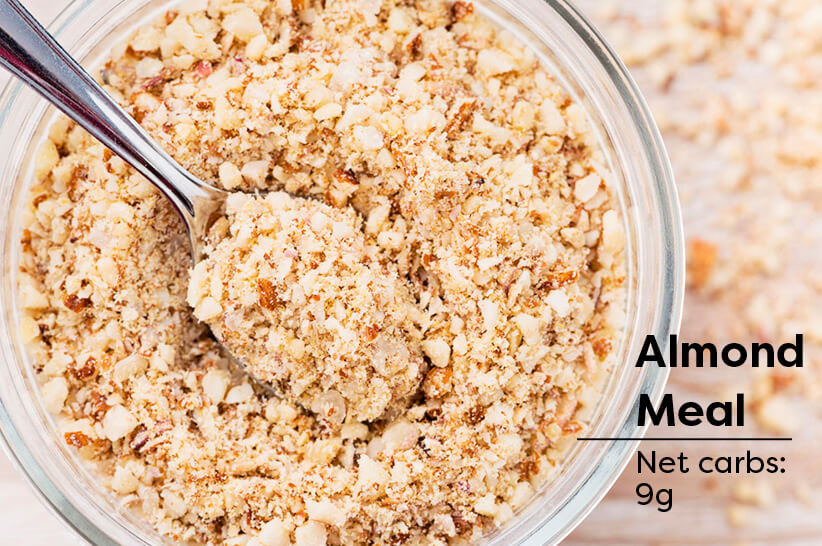 Almond meal nutrition (100 g)
Calories: 579
Fat: 50g
Net carbs: 9g
Protein: 21g
Fiber: 12.5g
Traditionally, almond meal has been used in making marzipan, macarons, and frangipane. However, it became a popular wheat flour substitute with the growing popularity of low-carb diets.
You can use almond meal in most of the same recipes that call for almond flour. Keep in mind that the taste will be richer and nuttier. You can also make your own almond meal from scratch using a high-power blender or food processor.
Like almond flour, almond meal is also very nutritious 2. It's richer in polyphenols, however, which are mostly concentrated in almond skin 3.
Coconut flour is a byproduct of coconut milk production. When producers make coconut milk, they're left with coconut pulp, which they dry and ground into coconut flour.
Unlike most coconut products, coconut flour is relatively low in fat since most of it was extracted during coconut milk making.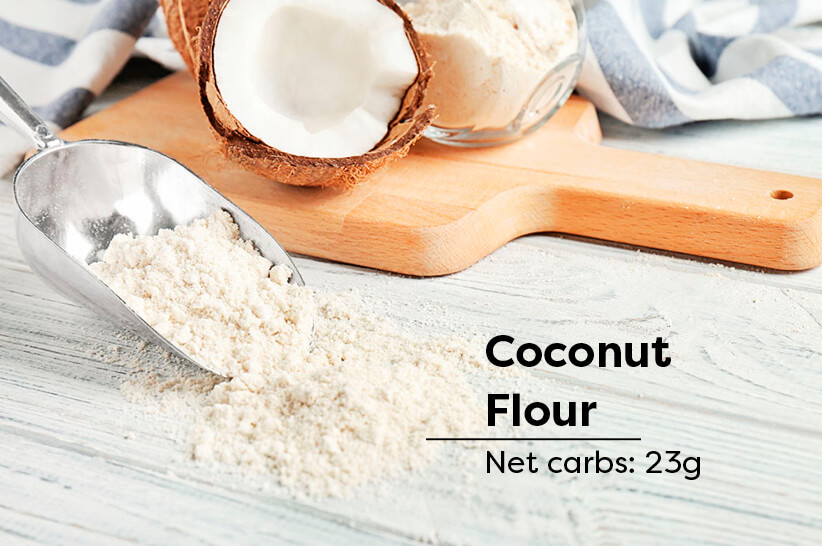 Coconut flour nutrition (100 g)
Calories: 460
Fat: 11.5g
Net carbs: 23g
Protein: 15g
Fiber: 38.5g
Coconut flour is higher in carbs than other keto flours, but it still is keto-friendly. That's because a little goes a long way as it is a very fibrous flour that tends to absorb a lot of water. Most recipes calling for coconut flour, like this keto salad falafel, combine a little bit of it with almond flour.
What's also interesting about coconut flavor is that it doesn't add much coconut flavor to baked goods. And nutrition-wise, it's a major source of fiber on the keto diet as well as potassium 4. Besides being keto, coconut flour is paleo-friendly, gluten-free, and usually safe for people allergic to tree nuts.
4. Flax Meal (Ground Flaxseed)
Ground flax seeds are not only low-carb, but they're also one of the healthiest and most nutritious foods you could eat.
Flax seeds contain a wealth of omega-3 fatty acids. You'll get 1.5 g of this essential fatty acid from just one tablespoon, which is well beyond the 500 mg recommended daily intake 5, 6. Omega 3s reduce inflammation, support brain health, reduce cardiovascular disease risk, and so much more.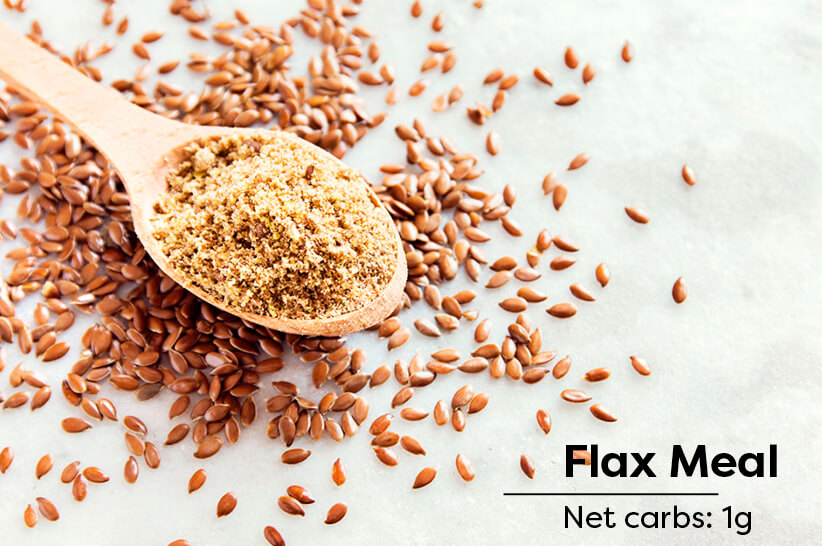 Flax meal nutrition (100 g)
Calories: 534
Fat: 42g
Net carbs: 1g
Protein: 18g
Fiber: 27g
On a keto diet, flax meal is a fantastic flour substitute at only 1 g of net carbs in a 100 g serving. Since flax meal is high in fiber, you can use it in keto bread making in combination with almond flour. It's also great for thickening smoothies and on top of keto yogurt.
Grounding walnuts into walnut meal is fairly easy. All you need to do is add walnuts to your food processor and blitz until you get a fine flour. Of course, you can buy the ready-made version at most food stores.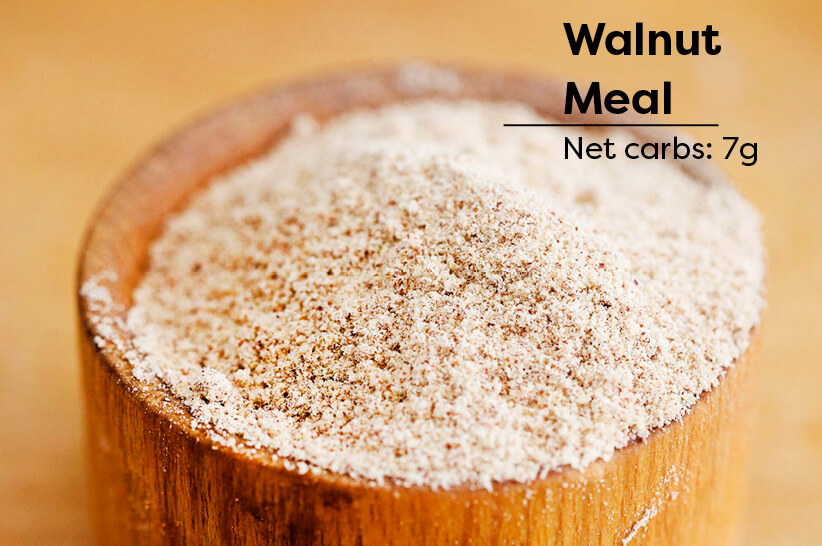 Walnut meal nutrition (100 g)
Calories: 654
Fat: 65g
Net carbs: 7g
Protein: 15g
Fiber: 6.7g
Some keto-ers use walnut meal in keto baking as a cheaper alternative to almond flour. Keep in mind that walnut meal does have a strong, nutty aroma and flavor. This probably makes it most suitable in dessert recipes that call for walnuts, some keto pancakes, and maybe even keto pumpkin bread.
Walnuts are another plant source of beneficial omega-3s. You'll get around 2.5 g of these essential fatty acids in 1 oz of walnut meal along with 11% of the DV for magnesium, 8% for vitamin B6, and 7% for folate 7.
Psyllium husk is a dietary product made from the Plantago ovata plant. Many people consider psyllium to be a laxative. However, it's actually a dietary fiber supplement that can relieve both constipation and diarrhea.
On a keto diet, using psyllium in combination with nut flours can help you achieve a fantastic texture in baked goods while keeping carbs low. A great example is this keto naan bread recipe combining this ingredient with coconut flour. The result is a crispy, crunchy flatbread with only 0.9 g net carbs.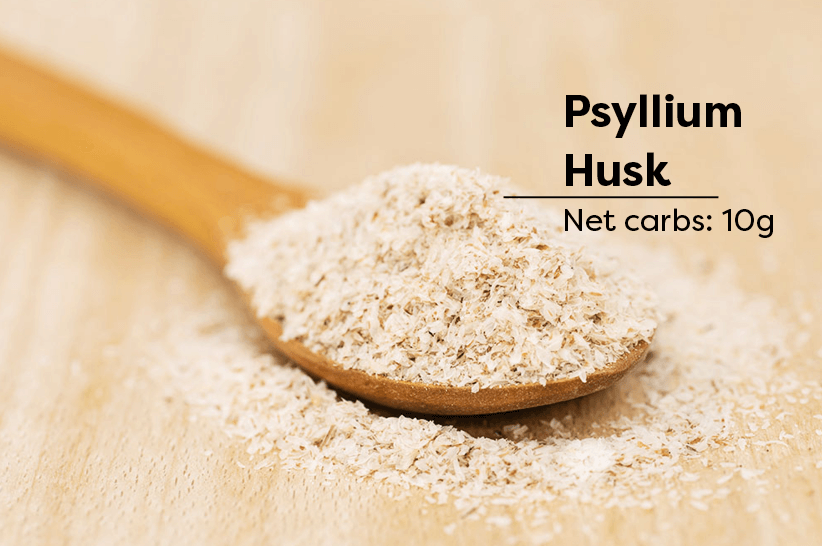 Psyllium husk nutrition (100 g)
Calories: 350
Fat: 0g
Net carbs: 10g
Protein: 0g
Fiber: 70g
There are approximately 70 g of fiber in a 100 g serving of psyllium husk powder and only 10 g of net carbs. The product does not contain any fat or protein, unfortunately, but it's still really good for gut health and possibly glycemic control 8.
Maybe you need something to thicken your keto stews or smoothies with? Pumpkin seed meal makes a fantastic flour (and banana) substitute in these types of recipes. It has a mild nutty flavor that goes well with just about anything.
And at only around 8 g of net carbs in a 100 g serving, pumpkin seed meal is definitely keto-friendly 9. You'll also get almost 50 g of mostly unsaturated fats, which are considered great for heart health and some are even essential nutrients. On top of that, pumpkin seed meal is exceptionally rich in protein, so it can help you feel fuller for longer when added to keto recipes.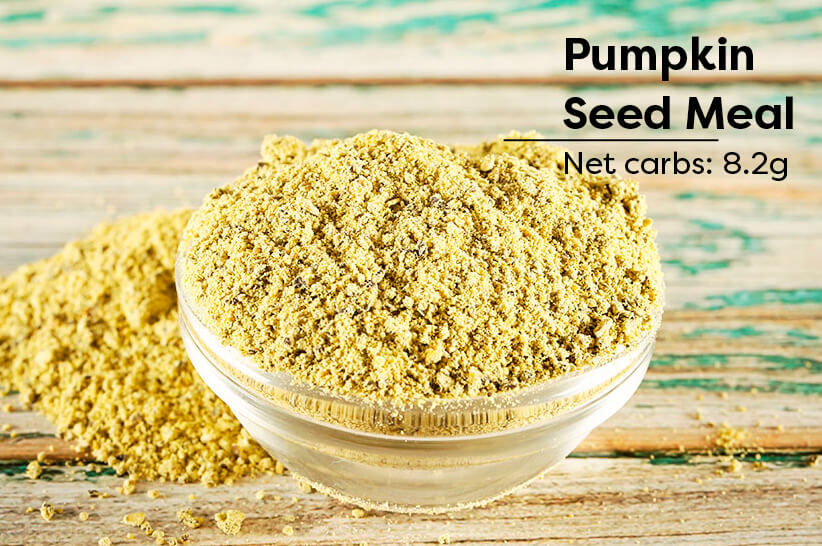 Pumpkin seed meal nutrition (100 g)
Calories: 574
Fat: 49.5g
Net carbs: 8.2g
Protein: 29g
Fiber: 6.5g
Pumpkin seeds are also a well-known source of zinc, with 100 g providing almost 50% of the DV for this important mineral. Zinc is an essential nutrient important for growth, development, and immunity 10.
Use ¼ of pumpkin seed meal to replace almond flour in keto recipes. Feel free to make your own by grinding hulled and unsalted pumpkin seeds in a food processor.
Grain flour is not allowed on a keto diet, which is why many keto eaters use alternatives like nut flours or fiber supplements.
Most of the time, you'll need to combine different keto flour substitutes to get results that are similar to the original recipe.
Most keto flour substitutes are also high in fat and can help add fiber to your daily diet.
You can make many of the best keto flour substitutes from scratch with simple ingredients to save money and to add variety to your diet.