Yes, tomatoes only have about 3-4 g of carbohydrates per 100g serving, so they can be eaten as part of any keto diet meal.
We have a keto food list, aka the keto food grocery list. It's a great resource of ketogenic foods.
If you are on a ketogenic diet, you should limit your carbohydrates intake to 30g per day or less. Fortunately, vegetables and fruits such as tomatoes, raspberries, blackberries, avocados, and coconut play a critical role in every healthy low-carb diet. And to hit the nail on the head, Tomatoes are ketogenic. They only have about 3-4 g of carbohydrates per 100g serving, so they can be eaten as part of any keto diet meal.
That said, you need to be careful when choosing veggies as some are armed with tons of carbs and proteins. The best type of vegetables suitable for a keto diet should be both high in nutrients but low in carbohydrates. If you are unsure of what foods to purchase, consult our detailed keto food grocery list. It gives a complete list of Ketogenic foods, summarized in categories such as dressings, spreads, oils, seafoods, and more to make it easy for you to find exactly what you want.
How Many Carbs in Tomatoes?
Above-ground vegetables are generally lower in carbohydrates and they have a huge place in the ketogenic diet. Tomatoes have a low carbohydrate count of a mere 3.69 net carb per 100 grams (3 ½ ounces) serving, 1.2g fiber, and 2.49g of sugar. A single, raw tomato has a decent amount of the nutrients your body needs including18 calories per 100 grams, 0.2g fat, and 0.9g proteins.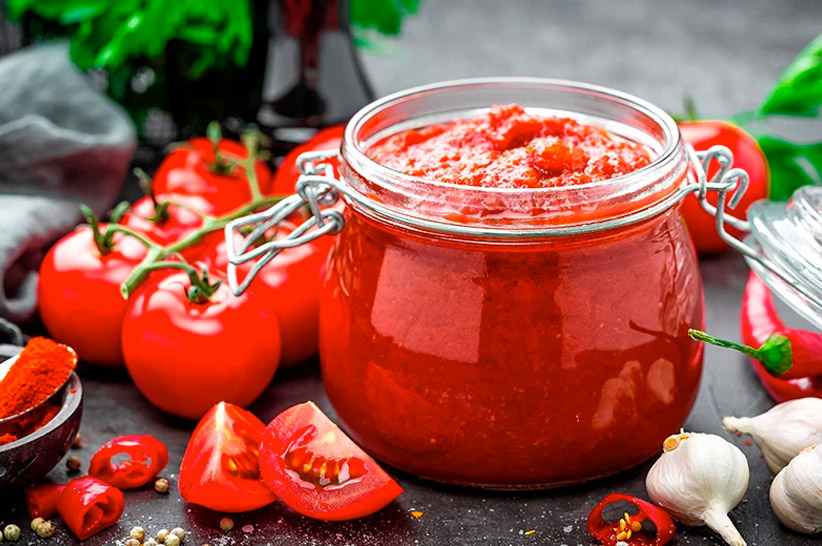 However, there are other ways to consume the nutrients your body needs to achieve a keto diet. Our highly nutritional and affordable supplements such as our Keto focus Capsules, Exogenous Ketones, keto Creamer can be consumed with a keto-approved meal plan. They are FDA approved and ideal for people trying to lose weight while still hoping to maintain a high supply of energy. With the 3 products in your diet, we promise you will be less hungry and more mentally focused and alert.
Are Tomatoes on the Keto Diet?
Aside from leafy and dark vegetables such as kale or spinach, vegetables from the cruciferous family, especially tomatoes, that grows above ground are quite beneficial for people on the Keto diet. In fact, it is right to say that tomatoes are one of the preeminent vegetables that you should include in your daily meals.
Tomatoes are low in carbs and calories. So, whether you snack on them as an afternoon pick-me-up or toss a few in with a salad, they will not ruin your well-detailed diet. They are tasty, and they add a depth of flavor to your meal. Including tomatoes in your salad provides a healthy meal that keep up with the keto diet guidelines.
You can also sauté or steam some tomatoes with some coconut oil, salt, and peppers and serve with a ketogenic-approved main dish; the possibilities of how you can include tomatoes to your keto diet are limitless.
To kick start your keto diet; consider buying our MCT powder or MCT capsules for additional support. Our MCT powder and capsules offers quick energy boost, increases mental focus, and curbs appetite. Simply add some MCT powder to your tea/ coffee anytime you need an energy boost or digest our tasteless and odorless capsule while on the go! Also, our powder can be added to baked good recipes. Whether you need high quality fat or a meal replacement, our MCT powder and capsules will help you get into ketosis quickly.
On a keto food chain, the carbs in tomatoes are less than those found in other vegetables such as:
Cabbage – Cabbage has three net carb per 100 grams. This vegetable can be quite delicious when sautéed in spices and butter. Additionally, it can be used as a base for a hearty vegetable cabbage soup or cabbage and pea salad, plus much more!
Cauliflower – A beloved of many keto recipes, cauliflower is highly versatile but still hither in carbs than tomatoes. An entire cup of cauliflower adds 2.9 grams of net carbs to your diet only, making it a top choice in the Keto diet list. It's a clever alternative to bad carbs that you crave such as pasta, rice and potatoes.
Broccoli – Broccoli is a very common veggie in a keto kitchen. Surprisingly, broccoli has a carb count of 4.40g and it can be prepared in a variety of ways. It can be drizzled in cheese, roasted, fried, or steamed. Better yet, broccoli is very healthy and tasty.
Kale – Just a reminder, the best vegetable options for a keto diet are dark and leafy, and that's Kale. Kale has a higher carbohydrate count than both tomatoes and spinach at 4g. Kale can be used in salads, as a base instead of pasta or baked into chips!
Green beans – These veggies are a member of the legume family and have a carb count of 4.27g per serving. They can be steamed, stewed, or roasted to provide a finger-licking meal for the entire family. Consider cooking green beans with butter to bring the crunchy flavor and taste to life.
Which Vegetables Have a Lower Carbs Count than Tomatoes?
The carbs in tomatoes, however, are higher than those consumed from:
Zucchini – Recorded to have 2.11 net carb per 100g serving, zucchini can be a perfect alternative to potatoes. Try zucchini chips or fries and enjoy a healthy yet scrumptious meal. And while you are at it, why not add a side of fresh tomatoes to go along with the chips?
Spinach – This veggie has a low carbohydrate count of a mere 1.43g. Spinach can be creamed, sautéed, or used raw in salads. Spinach pairs wonderfully with tomatoes as well.
Asparagus – With a low carb count of 1.78g, asparagus is highly nutritious and very filling, making it an excellent keto vegetable.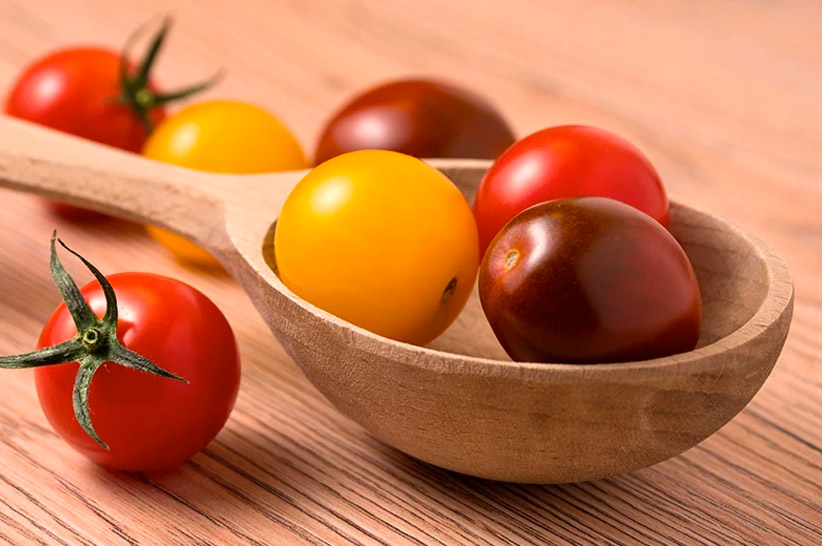 Do note that you cannot consume most fruits and veggies on a keto diet due to high concentrations of carbohydrates. Refer to our keto food list to find out which foods should or should not be added to your keto diet meal plan.
Are cherry tomatoes low carb?
There are a dozen variations of tomatoes worldwide including Campari tomatoes, grape tomatoes, beefsteak, cherry, kumato, and Roma tomatoes. Cherry types are great tomatoes for someone on the keto diet to consume. These tomatoes still have a similar nutritional and carbohydrates content to standard tomatoes. However, salads made from them are juicier, crunchier, and taste better than those from standard tomatoes. A cherry tomato salad pairs wonderfully with a hot cup of our Keto coffee.
Grape tomatoes are smaller in size than cherry tomatoes but have a more elongated shape. These tomatoes have a thicker skin, lower levels of fructose, and less water content. As a result, grape types probably have one of the highest carbs in tomatoes at 6grams.
Can kumato tomatoes be used on the keto diet?
Kumato tomato types are also referred to as brown tomatoes. They are a select breed from Spain and are currently cultivated across Central America and most of Europe. A Kumato tomato contains higher amounts of fructose and a slightly higher level of carbs than standard tomatoes at 4g per serving – these types can be a good option for the keto diet.
Are Roma tomatoes low carb?
These are the most common versions of tomatoes in grocery stores. Roma tomatoes are commonly grown in the United States, Australia, and the United Kingdom. One of the primary uses for these tomatoes is to produce tomato paste. They have a similar appearance to grape tomatoes and contain a carbohydrate concentration of approximately 7 grams.
Can beefsteak tomatoes be used on a keto diet?
Beefsteak types are the most consumed worldwide. They are commonly used in most fast food chains (they are the tomatoes used in burgers, pizzas, etc.). Beefsteak tomatoes have similar carb count as Roma tomatoes (7grams). However, it's best to steer away from them due to high counts of carbs per serving.
How many carbohydrates in Campari tomatoes?
Campari's are often confused with cherry tomatoes. They are said to be the sweetest tomatoes in the world. Campari tomatoes are best known for their unmatchable texture and their distinct flavors. They have a carbohydrates count of approximately 3.9 grams per tomato.
Why Should I Consider Tomatoes for My Keto Diet?
Aside from carbohydrates, tomatoes are armed with both vitamin C and Vitamin A. Vitamin A is said to support a healthy immune system, reduce the risk of acne, support bone health, and protect your eyes from night blindness and age-related decline. Vitamin C not only aids in the cure of the common cold, but it also protects the immune system, acts as a guard to skin wrinkling, and helps with prenatal health issues. For faster results, you can opt to include our Collagen Peptides plus our unflavoured MCT Oil into your diet alongside tomatoes. Our Collagen Peptides supplies all the essential proteins and amino acids needed to replenish the body's declining collagen supply. The end results? Incredible skin elasticity and no wrinkles. Our affordable supplements also aid with repairing joints, tendons, and cartilages. They also restore skin, hair and nails.
Additionally, our MCT oil is a must-have for those who are on a ketogenic or low-carb diet. Our oils will boost your energy levels, increase mental focus, increase ketones, protect gut microbiota, and even support appetite. The best part? Our MCT oils can be poured into coffee or tea, added to your favorite beverage, or used as a salad dressing!
What Should I Avoid While on a Keto Diet?
As beneficial as a keto diet can be to your body, there are a few foods that you should avoid. Our highly detailed keto grocery list can help you decide what to buy and how much to consume. Since glucose is the direct opposite of ketones, having excess glucose in your bloodstream will not allow your body to get in a state of nutritional ketosis. Some foods to steer away from include:
Sweets such as chocolate, cake, ice cream, pudding
High fructose items including syrup, dextrose, corn syrup
High carb foods including yams, potatoes, beetroot, sweet potatoes
Whole wheat grains: millet, wheat, rye, oats, etc
Sweet fruits; apples, bananas, mangos, grapes, etc
Citrus fruits including limes, lemons, oranges, and berries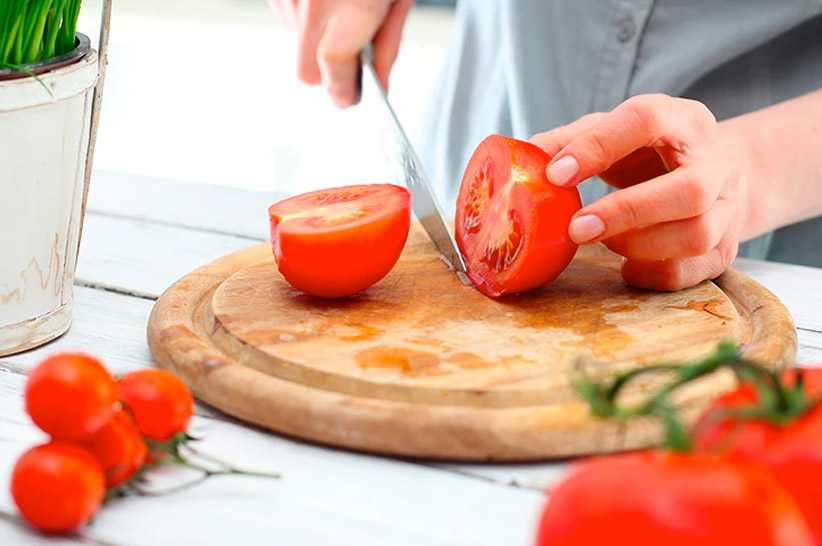 Instead of ruining your diet with the above foods, consider purchasing our gluten-free, no-sugar Ketogenic bars. The keto bar is made from a variety of ingredients including coconut oil, almonds, unsweetened chocolate, cocoa butter, milk, and much more. The bars are ideal for a mid-day snack or when your body needs a quick energy boost. Additionally, our on-the-go keto bars will curb your appetite, increase ketones, and heighten your mental focus.
Can a Tomato Keto Diet Help with Weight Loss?
Losing weight requires dedication and fewer calories intake. Instead of a fruit snack, consider taking tomatoes or our keto bars due to their low carbohydrate levels. Each cup of diced tomatoes contains about 32 calories only. These red and juicy plumps are filled with antioxidants which can help rev up the metabolism naturally. Additionally, tomatoes on the keto diet will curb cravings thanks to the high fiber content. Also, these delicious plumps can aid in digestion and encourage the production of Carnitine; an amino acid that helps regulate fatty acid and energy metabolism.
Benefits of Eating Tomatoes Daily
Eating just one tomato per day or incorporating tomatoes into your keto diet can have a lot of health benefits.
Interesting fact tomatoes used to be deemed poisonous to humans in past years!
However, this bright red veggie/ fruit (debate still ongoing) is one of the most commonly eaten savory items.
Also known as Solanum Lycopersicon, tomatoes are cultivated and eaten worldwide in numerous ways including cooked, raw, in drinks, pasta dishes, and much more. As earlier mentioned, tomatoes contain tons of minerals and vitamins including potassium, folate, vitamin K, and much more. Since they are rich in nutrients, tomatoes offer a wide range of health benefits to anyone who eats them including:
Including tomatoes in your keto diet can help maintain a healthy blood pressure level and reduce the blood glucose in anyone dealing with diabetes
Since they are an excellent source of vitamin C, tomatoes can help combat the formation of free radicals, also known as cancer cells. A study conducted by Molecular Cancer Research proved that additional intake of tomatoes could help prevent tumor development in prostate cancer.
Additionally, the fiber, potassium, and choline content found in tomatoes can reduce the risk of cardiovascular disease. Since tomatoes contain folate, they aid in balancing homocysteine levels which in turn reduce one's risk of factors in heart disease.
Other benefits include the reduction in constipation, protection against neural tube defects in infants, and fewer chances of sagging skin, blemishes, and other adverse skin health effects.
Tomatoes have only 3-4 g of net carbs in a 100g serving, which makes them keto-friendly.
Combine tomatoes with high-fat ingredients like oils to make them more ketogenic.
Make sure to practice portion control and factor in the carbs in tomatoes when setting your daily carb limit.