On February 5 this year, Chinese families worldwide will welcome the Year of the Pig during the reunion dinner of Chinese New Year's Eve.
This event marks the beginning of Chinese New Year, also known as Lunar New Year or Spring Festival that culminates with the Lantern Festival taking place 15 days later. Traditional Chinese New Year dishes often carry symbolic meanings, and many are considered auspicious.
But what when you are following a ketogenic diet and are adamant about eating nothing but keto foods? No matter if you are planning on welcoming the New Year with takeout or homemade meals with extended family, there are plenty keto Chinese food recipes and options out there. Still, homemade is always best, and below you'll find some great low-carb takes on traditional Chinese meals. But first, let's see what Chinese New Year is all about.
Chinese New Year (Gong Hey Fat Choy!)
Chinese New Year is probably the most important Chinese holiday. It's based on the traditional Chinese lunisolar calendar. Its starting dates are not static, varying from January 21 to February 20. Although often called Chinese New Year, the holiday is also celebrated in Vietnam, North Korea, and South Korea.
Nobody knows when exactly celebration of Chinese New Year began, but its origins are commonly traced back to the Shang Dynasty (1766 BC – 1122 BC). But if you look into Chinese folklore, the beginning of Chinese New Year began with the fight against a mythical creature called Nian (literally translates to "Year"). Nian or Year was a sea-dwelling monster with a dog's body and the head of a lion. Every year, on New Year's Eve, Nian would show up to nearby villages to eat crops, livestock, and people. People began living in fear of this monster and started hiding in nearby mountains when it was time for Nian to show up.
One New Year's Eve, an old man visited a village where Nian was at and scared him with red decoration, red clothing, and burned bamboo cracking sounds. After that, every New Year's Eve people began decorating their houses with red door couplets and lanterns. They also began lighting firecrackers to scare the monster away. The monster never showed up again, and the event is now celebrated as Guo Nian, which can mean "celebrate (a new) year" or "overcome Nian."
There are other different versions of this story, but what's important to know is that all involve the fight against Nian. Another important aspect of Chinese New Year is the Chinese zodiac. A traditional way of tracking years in China is with the help of the twelve zodiac animals. Every year is assigned to an animal. This year will be the year of the Pig. The holiday lasts 15 days and will end with the Lantern Festival when lanterns will adorn the streets and people will release sky lanterns with their wishes written into them into the night sky.
11 Best Keto Meals Perfect for Chinese New Year
People celebrate Chinese New Year in a similar way Christians celebrate Christmas. This is a time when families get together for reunion dinner, which is the most important family feast of the year. Traditionally, every dish served during reunion dinner carries a symbolic meaning and is eaten to give the family fortune, health, and prosperity.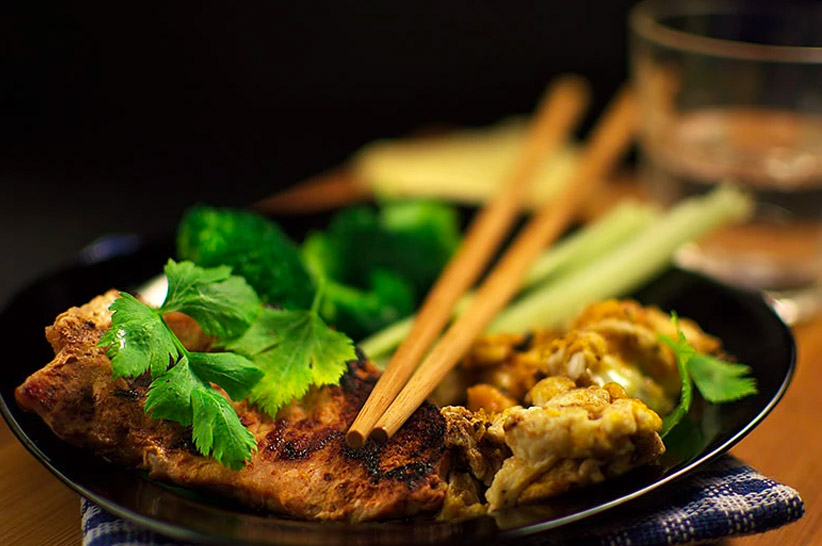 However, newer generations and the Chinese diaspora will often prepare non-traditional foods. And keto dieters definitely take a different approach to preparing reunion dinner meals. If you're one such dieter, here are 11 keto food ideas that are festive enough to serve on Chinese New Year's Eve.
Potstickers are Chinese wonton dumpling that are fried until brown on one side and later simmered in broth. These types of dumplings are one of the most popular foods eaten on Chinese New Year's Eve. Dumplings are believed to represent wealth and good fortune. Assembling and preparing them also makes for a great family activity. By far the most popular pot stickers are Beijing-style with pork and cabbage like the one replicated in this keto-friendly recipe.
The wraps in these recipes are made with a combination of almond and coconut flour as well as xanthan gum as a binding ingredient. The recipe also calls for coconut aminos instead of soy sauce. However, if you like the taste of soy sauce more, feel free to use light soy sauce or tamari. Make sure to follow the preparation steps according to get perfect dumplings.
Nutrition Facts:
Calories 79
Fat 6g
Protein 3g
Net Carbs 1g
---
A traditional Chinese dish that needs very little tweaking to make it keto-friendly – what more can you ask for? The trick is to omit the cornstarch, and that's basically it. While there are many versions of this Chinese classic, we think simple is always better. And this recipe here definitely lives up to this philosophy.
If you would like to give egg drop soup more flavor, then include grated ginger, crushed garlic, soy sauce (or coconut aminos), white pepper, and mushrooms. Keep in mind that this will raise its carb content slightly. Some also like to soft tofu to their soup. It definitely makes the dish more satiating due to the extra protein.
Nutrition Facts:
Calories 56
Fat 5g
Protein 3g
Net Carbs 0g
---
A must-have on Chinese New Year reunions is steamed fish. It symbolizes wealth, likely because the word "fish" in Chinese has the same pronunciation as "wealth." This authentic recipe requires no changes to the preparation and ingredients to make it low-carb. One serving provides only 3.9g net carbs. If you want to lower its carb content further, replace the soy sauce with coconut aminos and the Shaoxing wine with dry sherry. Keep in mind that this could change the flavor.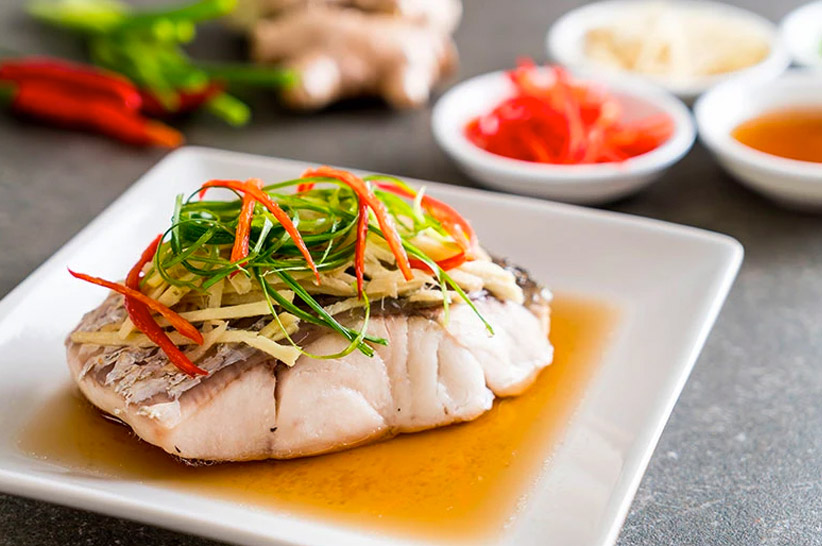 While this recipe calls for sea bass, you can also opt for other white fish. Popular alternatives include threadfin, snapper, cod, grouper, and halibut. Make sure to use fresh fish and prepare it right before your guests arrive to get achieve the best flavor. However, you don't need to wait for a special occasion to enjoy this meal, include it into your weekly keto diet plan to boost your omega-3s intake on keto.
Nutrition Facts:
Calories 353
Fat 14.7g
Protein 47.9g
Net Carbs 3.9g
---
4. Chinese-Style Green Vegetables
This is a healthy, low-carb meal that's also quick to make. Make it if you plan serving a meat-based dish and serve this as a side dish. The dish will definitely cater to a whole lot of palates and lifestyles: it's vegan, gluten-free, low-carb, low-fat, low-calorie, and it can be paleo if you omit the soy sauce and replace the peanut oil with olive oil.
Which greens you should use is up to your personal preferences. Baby bok choy, with its mild flavor and tender texture, goes well with the seasonings in this recipe. You can also go for Chinese broccoli or spinach. Don't go for napa cabbage or plain cabbage since these have a stronger flavor and crunchy texture.
Nutrition Facts:
Calories 62
Fat 4.5g
Protein 1.9g
Net Carbs 3g
---
5. Chinese Poached Chicken
Also known as white cut chicken, this Cantonese poached chicken dish is traditionally served during Chinese New Year's Eve family reunions. It symbolizes family union and rebirth. To really bring out its auspicious meaning, people will usually keep the head and claws. You can find whole chickens with head and claws in tact at organic food suppliers.
The dipping sauce complements the mild chicken flavor perfectly. It's made with ginger, scallions, and coriander stems. Some people don't like the taste of coriander, comparing it to the taste of soap. Apparently, studies show that whether you'll love or hate the taste of coriander depends on your genes 1. If your genes won't let you enjoy coriander, replace it with parsley.
Nutrition Facts:
Calories 1173
Fat 87g
Protein 85g
Net Carbs 4g
---
People in China have been eating tofu for well over 2,000 years. It's no wonder that tofu, also known as bean curd, is also served during the Spring Festival. It's mild taste and high protein content make it a good meat substitute that pairs well with almost any flavoring. And while tofu is made from soy, which is a legume, it's not all that high in carbs: a one cup serving has only 2g net carbs 2.
Unfortunately, tofu recipes often include corn starch, sugar, honey, and other high-carb ingredients. Luckily, this recipe includes only low-carb flavorings and other ingredients to make you enjoy your Chinese New Year meal guilt-free.
Nutrition Facts:
Calories 400
Fat 29g
Protein 24g
Net Carbs 5g
---
Tea eggs, made with green or black tea and spices, are another traditional Chinese dish served during the New Year but also as street food. These cool-looking eggs will definitely impress your guests with their marbled appearance and wonderful aroma. While many traditional recipes call for sugar, this one omits it completely to make for a completely no-carb dish.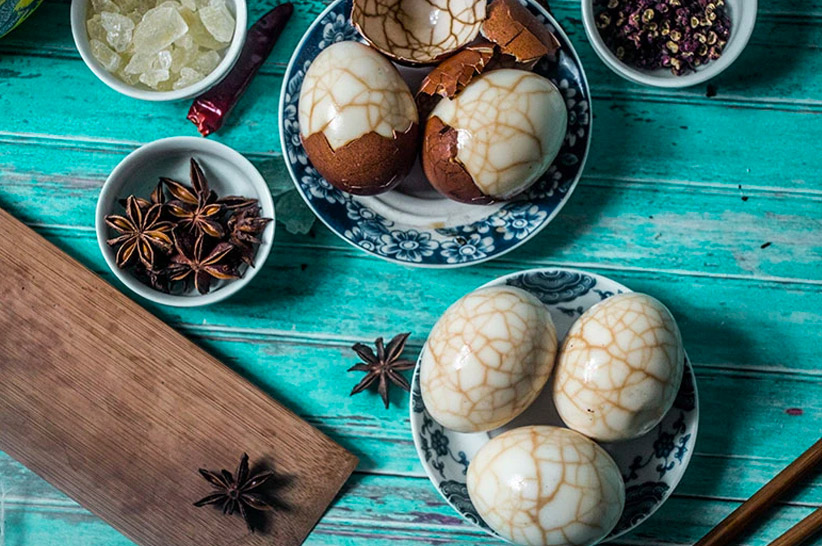 Be warned that cooking these eggs takes up quite some time to make – more than an hour. But the effort is worth it in the end. Especially because tea eggs symbolize prosperity during Chinese New Year.
Nutrition Facts:
Calories 71
Fat 5g
Protein 6.3g
Net Carbs 0g
---
8. Beef Lo Mein with Zoodles
Chinese cuisine in general is best known for noodle dishes. Like tofu, noodles have been consumed for thousands of years in China. That's why noodles definitely have their place in reunion dinners where they symbolize longevity. Of course, wheat noodles are out of the question on keto. Instead, go for these zoodles in this beef lo mein.
The meal is just as tasty as the real thing but contains only a fraction of the carbs found in the original. It's also healthier since zucchini is packed with valuable vitamin A, vitamin C, magnesium, potassium, and folate 3.
Nutrition Facts:
Calories 294
Fat 22g
Protein 20g
Net Carbs 4g
---
Peking duck may not be a one of those good luck foods served on Chinese New Year, but it sure is tasty. It's a dish from Beijing (Peking) and that has been a Chinese staple since the imperial era. It's characteristic crispy, thin skin and lean and tender meat have made it popular even outside of China.
Unfortunately, the dish is often quite carby due to added honey and hoisin sauce. Luckily there are many low-carb versions such as this one and that still taste just as good. This one is served with cauliflower mash and sautéed bok choy. You can, however, serve it with cauliflower rice and other low-carb vegetable side dishes of your liking.
Nutrition Facts:
Calories 358
Fat 11g
Protein 52g
Net Carbs 8g
---
10. Low-Carb Coconut Pudding
Of course, desserts are a big part of Chinese New Year Celebrations. Chinese coconut milk pudding is made with a combination of coconut milk, corn starch, and gelatin. It is often sweetened and decorated with coconut flakes. However, it's not really a pudding; it's actually called coconut bar and is a refrigerated dim sum dessert.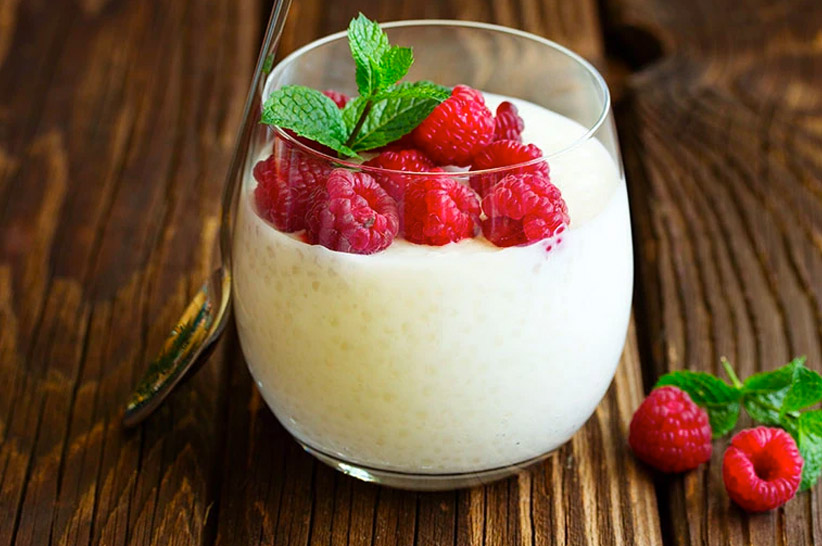 Unfortunately, you won't find keto-friendly versions of this particular dessert. This recipe is closest to the original as far as ingredients go. It contains coconut milk and gelatin. It's sweetened with stevia and flavored with vanilla extract.
Nutrition Facts:
Calories 242
Fat 25g
Protein 3g
Net Carbs 3g
---
Spherical egg-based waffles are quite popular in in Hong Kong where they are found sold as street snacks. They're usually eaten hot and served plain, without any additional toppings. They have a particular eggy taste, especially without any toppings.
Because it's difficult to find low-carb versions of this exact dessert, you can simply go for low-carb takes on Belgian waffles. They're quite similar to Chinese egg waffles since both are made from a pancake-type of batter. Both are also fluffy and eggy. This particular recipe uses a combination of almond and coconut flours to create that airy and light waffle texture everyone is sure to love this Chinese New Year.
Nutrition Facts:
Calories 236
Fat 6g
Protein 10g
Net Carbs 4g
Chinese cuisine is a big part of Chinese culture. This is especially apparent during Chinese New Year where food is centerpiece as families gather round to celebrate the coming year. If you're on a keto diet, you don't have to forgo your diet to have a good time with the family. There are plenty low-carb versions of Chinese food traditionally (and not traditionally) served during reunion dinner.
We found 11 tasty low-carb meals for you to consider. All have less than 10g net carbs per serving and many are also high in fat and moderate in protein – just the way you would want it on a low-carb diet. Of course, you can simply tweak any dish by replacing high-carb ingredients such as honey, sugar, starch, and noodles with their low-carb counterparts such as stevia, Swerve, coconut flour, and zoodles. Make sure to keep an eye on your carb count and Gong hei fat choy!